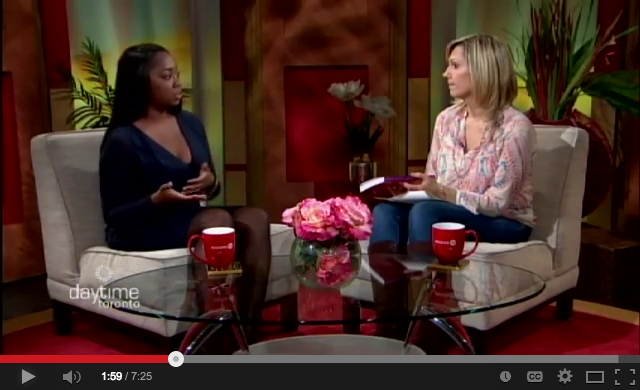 Daytime Toronto invited Pauleanna Reid to the show to discuss teen parenting and her debut fiction novel: Everything I Couldn't Tell My Mother
"Teens are very good at making adults believe that everything is ok even when they're not" says author and motivational speaker, Pauleanna Reid. "It's important that parents create a space to open up the lines of communication so that their teens feel safe in confiding in them."
Based on Reid's own life experiences, Everything I Couldn't Tell My Mother follows the adolescent life of Aaliyah Panarese as she encounters many of the issues that teens and young adults face everyday, including bullying, low-self-esteem and sexual discovery. Her journey takes dramatic twists and turns while delivering a cautionary tale that is grounded in the reality of what it is to be a teenager in today's instant-access generation.
"Not very often do you come across a book so accurately written for teen's facing the overwhelming amount of challenges presented in today's society," says Natasha Gibbs Watson, a Child and Youth Worker. "She has managed to capture what its like to be a teenager struggling to find herself: Friendship, peer pressure, promiscuity, teen pregnancy, abusive relationships, familial relationships; Ms. Reid tackles these issues head on and in brilliant fashion," adds Gibbs Watson.
Watch the interview below. Everything I Couldn't Tell My Mother can be found on Amazon, Barnes & Noble, Indigo, Kobo and iBookstore
– 30 –
About Pauleanna Reid
As founder of New Girl On The Block Inc. Pauleanna uses a whirlwind of inspirational lectures, round table discussions and media appearances (Rogers Television, MTV Canada, Global Television), to positively influence and challenge youth and young professionals to pursue their dreams and live a life they love. Having overcome her own personal and professional obstacles, her powerful story-telling encourages this generation not only to face their challenges but also to conquer them.