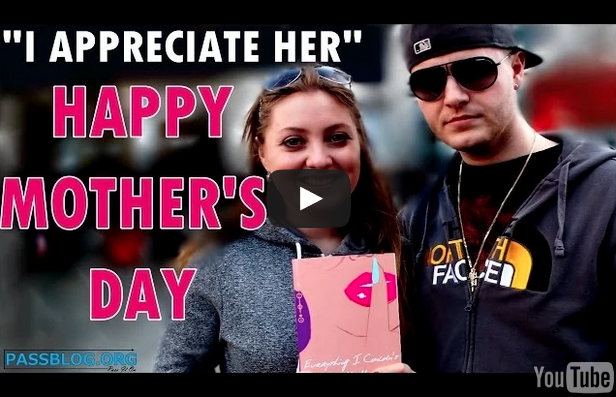 Passblog.org took to the streets of Toronto for the "I Appreciate Her" Mother's Day Project where people were asked to share how their mothers inspired them and what they love most about their mom's.
"Everyone has a different kind of relationship with their mother's," says author and motivational speaker, Pauleanna Reid. "It's important that people know that just because they have one kind of relationship with their mom, that it's still a strong relationship and that it's worth your time and energy to improve or maintain it. Like any relationship, the bond between mother and child is one that requires work and so I wanted to support this project so that others will be encouraged to work on their relationships with their mom's no matter how good or bad it is."
All participants received a copy of Reid's debut fiction novel: Everything I Couldn't Tell My Mother which is the story behind one mother/daughter relationship and a coming of age story for any woman who has ever questioned her sexual maturity and readiness, stayed silent at a time when she should have spoken up or accepted treatment that was less than what she deserved.
Check out the video on the I Appreciate Her Mother's Day Project on Passblog.org here: http://www.passblog.org/i-appreciate-her-a-mothers-day-project/
– 30 –
About Pauleanna Reid
Through a whirlwind of inspirational lectures, round table discussions and media appearances (Rogers Television, MTV Canada, Global Television), she positively influences and challenges youth and young professionals to pursue their dreams and live a life they love. Having overcome her own personal and professional obstacles, her powerful story-telling encourages this generation not only to face their challenges but also to conquer them.
About Passblog.org
PassBlog is a personal development platform for leaders. We share positive and exciting content from the experience of others to expand your knowledge and help you develop new skills. Through PassBlog, you will have the opportunity to personally hear from today's top achieving individuals, leaders, CEO's, entrepreneur's, innovators and other inspiring people from around the world.