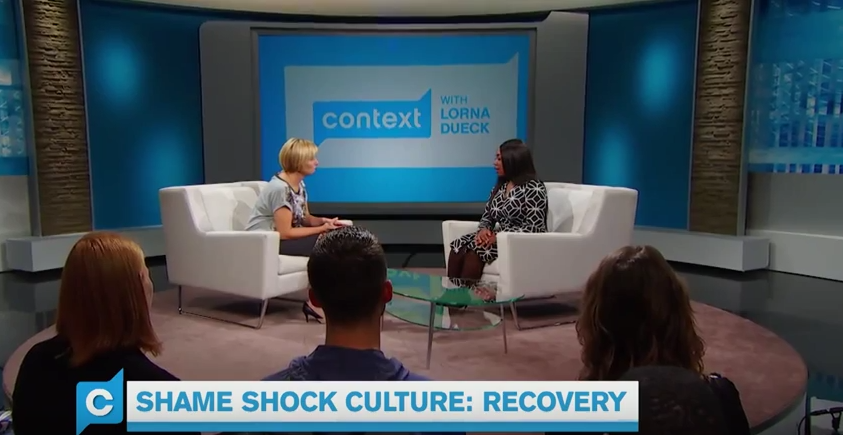 Shock and Shame Culture with Context TV
Toronto On – TV host Lorna Dueck opened up a conversation about society's shock and shame culture on the heels of the recent announcement of the controversial site Ashley Madison being hacked. Throughout the episode 'Context', four guests detailed their various experiences of shame and gave advice on how to cope with it. First up was plus size model Ruby Roxx, followed by Dr. Margaret Paul, author Jamie Tworkowski and lastly author and motivational speaker Pauleanna Reid.
"There were a lot of twist and turns in my life that people didn't know about. Carrying that emotional baggage was difficult for me to move forward," shares Reid.
Reid's in studio interview with Dueck discussed growing up feeling ashamed of the poor decisions that she made in the past and how Reid took charge of her life to conquer these feelings of shame and depression. Reid reveals that it was speaking up and telling someone that there is something wrong that started her path to better mental health. Along with speaking up, seeking professional help and praying, Reid has defeated many obstacles and is now a young mogul who's mission is to pay forward the lessons she has learned so that she can help prevent even one other young person from experiencing what she had before.
Watch the video footage here.
About Context TV
Context TV with host Lorna Dueck is a half-hour independent-produced television program that started in 2003. Located in Toronto, the show's goal is to cover ground breaking stories through Christian world view. It explores peoples' experience of God in the topical happenings of our day.
About Pauleanna Reid
Pauleanna Reid is a multi-passionate entrepreneur on a mission to help young adults see beyond the limits of their circumstances and create a life they love. She is a Nationally Published Journalist, Motivational Speaker, Author of the novel Everything I Couldn't Tell My Mother and Co-Founder of New Girl On The Block Enterprises.
Media Contact:
Safia Bartholomew
Safia@PauleannaReid.com
www.pauleannareid.com