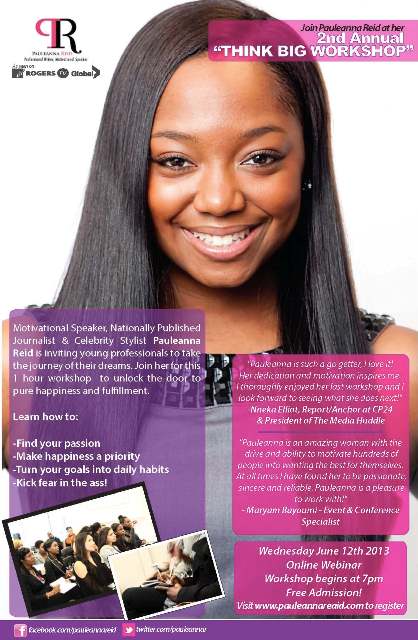 For the second time around, motivational speaker, nationally published journalist and image consultant, Pauleanna Reid is hosting the "Think BIG" Workshop to help young professionals navigate their lives and career paths to find their passion and live a happy and fulfilled life. This year, Reid is opening up her workshop to the world and inviting attendees to participate online in a live broadcast.
"Now more than ever, young professionals are eager to find their purpose and their passion and begin taking the steps towards living the life they desire," says Reid. "I'm very passionate about sharing the lessons and gifts that I have received so that other young women and professionals can get the guidance they need while pursuing their dreams."
"Think BIG" originally started out as a For Women Only (FWO) event in Toronto, but this year, Reid is opening up the workshop to both men and women around the world. "I was surprised to see how many people were disappointed that they could not attend last year, either because they weren't female or in the city," Reid comments. "I want to open up the workshop to men and women everywhere who can benefit, whether it be a student who is trying to find the right career path; a single mom who needs the motivation to finally start her business or a young man looking to make a career change."
Reid plans to make this year's workshop more interactive and put attendees to work. "The hands-on approach is so effective when you are trying to find your way in life," adds Reid. "By putting participants to work, it will open them up to share and encourage them to take specific steps to achieve them."
The "Think BIG" Workshop will take place on Wednesday, June 12, 2013 at 7pm. Those who wish to attend can register at www.pauleannareid.com/ThinkBig.
About Pauleanna Reid
Pauleanna Reid is a nationally published journalist, motivational speaker, celebrity fashion stylist and mentor. Through a whirlwind of inspirational lectures, round table discussions and media appearances, she positively influences, challenges and reconnects youth with their passions while providing the necessary tools to prioritize and execute. Having overcome her own personal and professional obstacles, her powerful story-telling encourages this generation to face their challenges and conquer them.