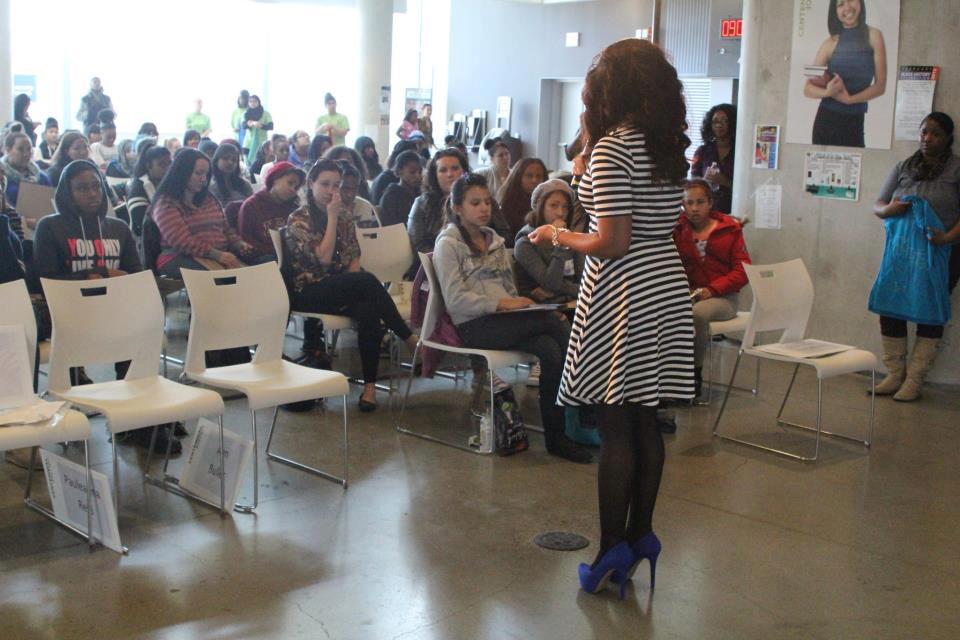 TORONTO, ON (March 11, 2013)–More than 100 young women gathered together at the 3rd Annual RISE Above Conference for an afternoon of enlightenment and empowerment with the keynote speech delivered by motivational speaker, professional writer and image consultant, Pauleanna Reid.
"I've accomplished a lot at my age, but by far the most memorable milestone in my career is when I gave the keynote speech at this year's RISE Above conference," said Reid.
Having overcome her own struggles with a mental illness and bullying, Reid has dedicated her life to helping young women and girls find their passion and live the life they desire. In the past year alone, Reid has delivered a series of workshops, executive trainings, keynote speeches, presentations, television and magazine interviews all in an effort to inspire young women and girls to live a better life.
"What I loved about that day is the moment I looked into the eyes of each one of those girls in the audience and saw their faces tear up when I spoke about my biggest life struggles and how quickly their faces lit back up when I mentioned my winning strategies to overcome my obstacles," comments Reid.
During her speech, Reid emphasized the importance of having a mentor and finding someone wiser and with more experience than you to be a guide when taking the journey into a new life or new career. She highlighted how her own mentor Shannon T. Boodram, made such a difference in her life and presented Boodram with a bouquet of roses to show her appreciation.
"I'm so proud of her, she's such a strong and powerful woman," said Boodram. "I think she definitely changed a lot of young girls lives today and I'm happy to be one of the "old" girls who also had their life changed today."
Reid is already in planning stages for her 2nd Annual Think BIG workshop, which will be a live online broadcast, and she is also launching an online preview of her New Girl On The Block mentorship program. More details will be released between May and June 2013.
A video of Reid's keynote speech can be found here or you can view the RISE Above photo album here
About Pauleanna Reid
Pauleanna Reid is a nationally published journalist, motivational speaker, celebrity fashion stylist and mentor. Through a whirlwind of inspirational lectures, round table discussions and media appearances, she positively influences, challenges and reconnects youth with their passions while providing the necessary tools to prioritize and execute. Pauleanna uses incredible wit and candour to target young women and help them shape and create the world that they have always desired. Having overcome her own personal and professional obstacles, her powerful story-telling encourages this generation to face their challenges and conquer them.
Category: News, Press Room
To book Pauleanna Reid for a speaking engagement, please call or email: (416) 907-2560 | gabrielpr@gabrielpr.ca