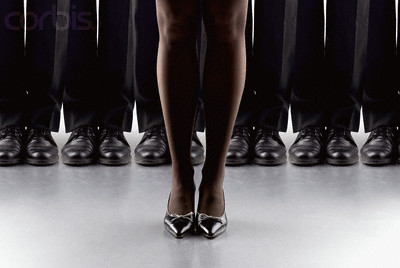 Months ago, I came across this TedTalks video about
"Why We Have Too Few Women Leaders"
by Sheryl Sandberg – COO of Facebook. As I was doing some blog snooping this morning, I came across it once more and thought, hey, this is so insightful and others should see it! Following the video clip, I've also given
6 Workplace Skills Women Can Learn From Men
. Meet me in the comment section and let me know if you agree or if there is a point that was missed!
1. THINK YOU'RE AWESOME
"If you ask men why they did a good job, they'll say 'I'm awesome.' If you ask women why they did a good job what they'll say it's someone helped them, they got lucky, they worked really hard," said Facebook COO Sheryl Sandberg. "Men attribute their success to themselves and women attribute it to other external factors." There is a psychological phenomenon called "Imposter Syndrome", in which successful women feel that they have lucked into success.The term was coined in 1978 by clinical psychologists Pauline Clance and Suzanne Imes and is mostly affects women in traditionally male fields."
Pauleanna says: Most days I wake up feeling like superwoman. I look into the mirror and I tell myself that today will be productive. I find that staying positive puts me in a lighter mood and definitely starts my day off right. Try to keep words like, "can't", "no" and other negatives out of your vocabulary!
2. MAKE SURE YOU'RE VISIBLE
"Connie Glaser, a leading expert on gender communication and women in leadership, writes:"From kindergarten on, girls are taught that if they do a good job, they'll be recognized for their work and be promoted accordingly. Unfortunately, success in the business world doesn't work this way. The right people need to know about your accomplishments if you want to get ahead. Women need to seek visibility for themselves — volunteer to make a presentation, write a press release about recent accomplishments, network with company influences, and let key people know about your successes."
Pauleanna says: This is so so true. My mentor Shannae Ingleton pounds this into my brain all the time and is such a great example. I've witnessed Shay work her way up the corporate ladder in zero seconds flat because of the key relationships she has established. The most important word here is "relationships". I know this first hand as well I wouldn't be where I am professionally if it wasn't for my connections with some of the most brilliant people in my field.
3. DON'T BE AFRAID TO ASK
"Statistics show that only 7 percent of women negotiate their salaries when they first enter the workplace, but 57 percent of men do." Linda Babcock and Sara Laschever, in their book "Women Don't Ask: Negotiation and the Gender Divide," calculated that by not negotiating her salary on the first job offer, a woman sacrifices over a half a million dollars throughout the course of her career."
Pauleanna says: There's a book called, "Nice Girls Don't Get The Corner Office" By: Lois P. Frankel. -Go and Buy It!
4.DONT GET TOO EMOTIONAL
"Emotional intelligence can keep women from advocating for themselves and their business interests. In negotiations, it sometimes leads a woman to take an apologetic tone that works against her. In her book "Knowing Your Value: Women, Money, And Getting What You're Worth," Mika Brzezinski writes a list of some of the common and disastrous opening lines women employ in negotiations: "I'm sorry," "I know you're busy…," "I don't know if this is possible…," "I hate to do this…," "I'm sorry if the timing is bad." The better approach? Remain confident, and explain why a raise or promotion for you is the best thing for the company."
Pauleanna says: Check that BS at the door. Never let 'em see you sweat. Confidence is so important and is needed if you want to get exactly what you want.
5. WORK AS HARD ON NETWORKING AS YOU DO ON WORK
"Dr. Lois Frankel, psychologist and author of "Nice Girls Don't Get The Corner Office" writes that women should stop working so hard and take some time for in-office relationship building. She recommends getting up from your desk at least twice a day to have a personal conversation with someone else in the office, or taking a long lunch to network (without guilt). This links back to being visible. Don't wait for the work to put you in the spotlight — put yourself there."
Pauleanna says: No one likes a B$t#h. Always remember that your smile is your greatest asset. Like Kimora Lee Simmons says, "Cool/Interesting people will always be attracted to other cool/interesting people." So go out of your way to build relationships and network your butt off in order to get ahead.
6. DON'T APOLOGIZE FOR WHO YOU ARE
And 'who you are' is a woman. For obvious reasons, no man pretends to be less masculine (however you define masculinity) at work, but the same holds true for women. As mentioned above, certain qualities women bring to the table are not just likable, they're good business.
Pauleanna says: This by far is my favorite. Take it in.
Peace & Love,
Category: Arts, Beauty, Blog, Career and Business, How To, Mentorship, Networking, Self-Help
Pauleanna Reid is a nationally published journalist, motivational speaker, celebrity fashion stylist and mentor. Through a whirlwind of inspirational lectures, round table discussions and media appearances, she positively influences, challenges and reconnects youth with their passions while providing the necessary tools to prioritize and execute.