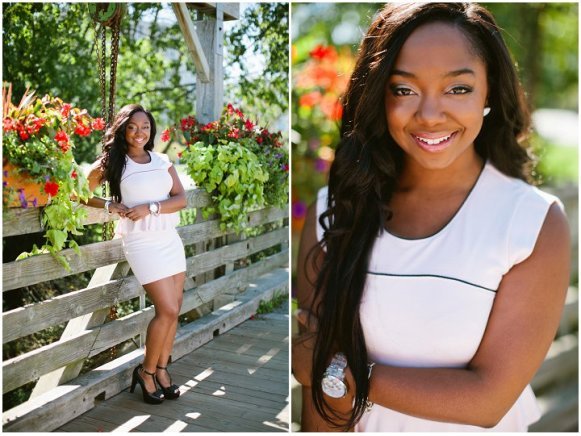 [Updated October 2013]
I've had the privilege to interview so many amazing female professionals who illustrate strength, beauty and power. To kick off the second season of my "Girl On Top" features, I've decided to begin with myself! I can't tell you how much I love receiving emails, Facebook and Twitter messages from you all. Many of you send in various questions about all aspects of my life, so I thought this platform would be a great way to answer everything you are dying to know! I have opened up my heart and shared some of my life lessons, pitfalls and dreams. To some I may appear to be an ordinary woman, but what sets me apart from the rest is my extraordinary vision.
Here's my story…
20s/30s/40s?
The golden age of 26 in November.
What is your zodiac sign?
Scorpio – and yes! It's all true.
What is your educational background?
I attended Sheridan College for a two-year Business Administration diploma program, but I left one week before graduation to pursue my dream career. So instead of graduating with a diploma I ended up with a first year certificate by default.
Where were you born? Raised? Live now?
I was born in Etobicoke. I was raised and currently live in Brampton, Ontario.
For business I travel back and forth from the United States quite a bit.
Single or Taken?
I'm single, sexy and free. Making my own money.
First job ever?
I worked at a retail store called Bentley Leather at the tender age of 14. Pretty young right? The district manager loved me so much that she hired me within the first 30 seconds of meeting me!
First  real  job?
My first "real job" was at a very prestigious interior design firm based in Mississauga. I was the Executive Assistant to the president. I will never forget my experience with this billion dollar company. My boss was an older Italian gentleman who was extremely hard on me, as in I definitely broke down and cried on the bathroom floor on a weekly basis. However, looking back, he was also a teacher in many ways. I learned valuable life lessons that will stay with me for a lifetime.
Your 5 must haves of the moment?
1) My bible
2) My Samsung III [This device keeps me connected to the rest of the world]
3) My hair extensions
4) Love [in all forms]
5) Art [Anything creative]
How would you describe your personal style?
My personal style is fun, feminine and uber chic. I love keeping things very simple, but will always add either a splash of color or a conversation piece into the mix. My favourite part of the day is first thing in the morning when I select my power outfit. Before I open my mouth I can make an awesome first impression through my clothes and how I carry myself. It's a power that many women don't even realize they have.
What is your favourite book?
My favourite book of all time is called "No Disrespect" by Sistah Souljah. I've read it 3 times and I will probably continue reading it until the day I die because every time I open it I learn something new. I actually got a chance to meet Sistah Souljah last year. Although I already owned her entire catalog, I bought all of her books again and ask her to sign them. They are carefully placed in my library on a shelf where no one can touch them. Souljah is incredibly awesome and someone I really hope to work with in some capacity in the future.
What are you currently listening to?
My taste in music is all over the place. I am in love with the sounds of Miguel, Luke James, John Legend and Melanie Fiona.  But when I really want to get in the zone or dance around the house in my underwear to let loose and be silly, I will listen to: Billy Joel [uptown girl is my favorite], Cold Play, Amy Winehouse, Fefe Dobson, Down with Webster, Fun and more. Can't forget my Gospel tracks. I love Yolanda Adams, Mary Mary, Divine Worship, Ashmont Hill, Vashawn Mitchell, and more. I love everything. Music is beautiful.
So what do you do?
I am an author, nationally published journalist, motivational speaker, celebrity fashion stylist and mentor.
Take us along the path (personal & professional) that took you where you are today.
[Deep breath] Okay, I currently work as a journalist with a publishing house here in Toronto. The company produces news reports on various topics for publications all over the world. What makes my job so exciting is the fact that I get to interview amazing people from all backgrounds and industries. I've interviewed high-profile individuals such as: Jillian Michaels, Olivia Newton-John, Sarah Mclachlan, Dr. Mehmet & Lisa Oz, Tonya Lee Williams, Rick Mercer, Brent Butt, Charles Khabouth and more. I write about all kinds of fun topics like: fashion, lifestyle, travel, music and even things that matter in our everyday lives such as politics and world issues. To date, my writing has been published inside the pages of The National Post, Toronto Star, Toronto Sun, Vancouver Sun and the Calgary Harold. During my first year at the company, I established myself as one of the leading journalists within the organization. When I started, I was so excited [and nervous] that I promised myself, I would fight for a top spot and with both dedication and passion, I most certainly did. This accomplishment is special to me because I made it to this point in my career in writing without an educational background in journalism, but with heart, hard work and healthy relationships.
I graduated from North Park High School back in 2005 and I remember sitting inside a classroom during my senior year feeling extremely frustrated with myself because it seemed as if everyone else knew exactly what they wanted to do in college while I was still contemplating whether or not I even wanted to go. You see, I always knew in my heart that I was meant to be a writer. From the time I was child, I was obsessed with reading books, newspapers, magazines and anything else I could get my hands on. I admired the way that writers could connect with me on an intellectual and emotional level and teach me new things that I didn't understand prior to reading the material. But in my particular circumstance, when I decided to pursue a career in the field of creative arts, I received a lot of negativity from friends, family and even teachers who doubted my capabilities and talents and said that I would never make it. Because of this I felt very insecure and lacked confidence and self-esteem.
Negativity and lack of support were my first obstacles and when you have a thousand no's coming at you all at once, it doesn't exactly inspire you to move forward, so I went to my parents and told them that I wanted a year off before I went to college. I needed to clear my head and figure out what direction I wanted to take and if writing was what I truly wanted to pursue. But as expected they told me no and said that I need to get my head in the game, choose something that would be financially rewarding and apply to college. So I enrolled in the two year Office Administration program at Sheridan College knowing that this was not what I wanted to do with my life, but no matter how many times I would communicate this thought, no one would listen, instead many people tried to convince me that my program was the best and safest route to take and that my feelings would pass.
Moving forward, I fell into depression. Now take a mental note that this wasn't the only reason why I was depressed, but it definitely contributed to it. I starting having symptoms in 2006 but I wasn't actually diagnosed with this mental illness until 2010. For me, life was miserable and I was very unhappy because I was following the plan that everyone else had for me and not pursuing my passion for writing. This was the second obstacle that I was faced with. As depression ate away at me, I didn't tell a single soul. Instead, I slapped on a fake smile every day and acted as if everything was fine. I continued pursuing this diploma, but lacked focus and it showed in my grades, my work ethic and attendance. Sometimes I would stay in bed for days, shut out friends and family and was in constant panic about what would become the next phase of my life. The reason why I was so troubled is because I had such a burning desire to pursue a career in writing, I just didn't know where or how to start. But the more I fought against my current situation, the more I wanted to explore new ones. So I did the exact opposite of what every adult advised me to do and dropped out of college during exam week of my final year, which was the third obstacle. One week before I would have received my diploma I got up, walked right out of the classroom and left it all behind. Was I scared out of my mind? Of course I was, but when you hit rock bottom there's nowhere else to go but up and the only thing I had left to operate on was faith. Faith in myself and faith in God that I would one day shape and create the world that I always wanted.
In short, I decided that I had to create an exit strategy if I wanted life to turn around, so I created a vision board to help me with my action plan. Then I reached out to two wonderful mentors, Shannon T. Boodram and Shannae Ingleton [lifestyle enthusiast and highly respected business woman]. They helped me maintain focus, attack my dreams and execute my goals. Several years later, we still remain close friends. I attribute a lot of my success to those ladies because they were my rocks when I was weak.
SPEAKING: My family is filled with pastors, ministers, and public speakers. So I've always been around an atmosphere of professionals who have amazing levels of confidence and can capture the attention of any room. I was bullied throughout my teenage years and didn't have a voice or the confidence needed to speak up when I had something to say. I was a follower and didn't see myself as big or bold although it was something I aspired to become. Then I started volunteering with different youth organizations to help me with that first step towards building my social skills. One day I had a light-bulb moment and called my high-school where I connected with an old guidance counselor. I told her my success story and she agreed to connect me with two leadership teachers to do a special presentation in front of their classes about my personal and professional struggles and how I achieved success in my dream industry. It was my first official speaking gig and I was so nervous [ I still get nervous today ]. That opportunity is what led me to believe that I have a gift from God that needs to be nurtured and explored. I now conduct empowering keynotes and uniquely designed workshops all over the city. I have a publicity and awesome mentor who assist me on this amazing journey.
FASHION: After recently stepping down as the CEO/Principle Stylist of La'Brown Styles, an image consulting firm I co-founded in 2007, I am now pursuing a solo career as a freelance wardrobe stylist and image consultant. With flavorful energy, a keen eye for detail and a trusted creative vision, I work with clients through various services to enhance their personal style and essentially create a first impression and confidence that will turn heads. View my fashion styling portfolio here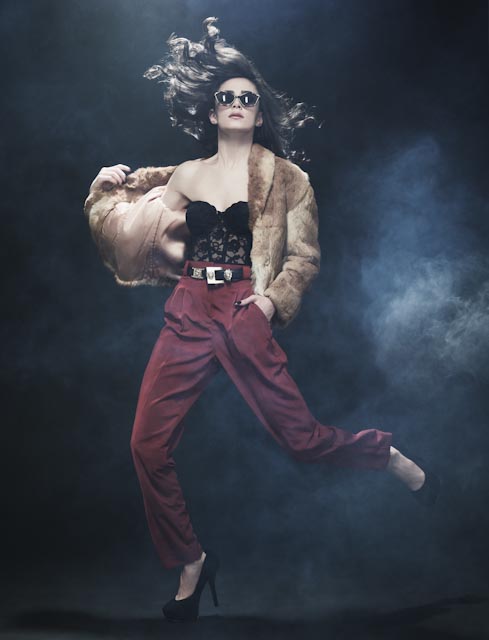 What's the toughest thing you I've been faced with thus far?
I battled a mental illness for 6 years. My mind felt like it was in jail and I often contemplated suicide because I just wanted the torture to end. I would never wish that state of deep sadness on anyone. I am so grateful to God, my doctors, friends and family for helping me through that tough time. I had the opportunity to share my story on MTV Canada for the Bell Let's Talk campaign. I always make a point to share my story with as many people I can because there are many young adults suffering in silence and I want them to know that speaking up is the first step of the recovery process.
What did your parents want you to be?
Originally, my parents wanted me to be an Olympic swimmer and so did I. I started competitive swimming at the age of 7 years old and cleaned up 5 gold medals in my first competition. As I got older, I moved on to travel all over the country and did very well in the sport. The downside was that every waking hour was consumed with it. The level that I was competing at wasn't a 'Mickey Mouse' level. I was swimming with Cobra Swim Club, an elite swim team here in Brampton. Training was at a very high intensity and a lot of time, effort and money were involved. 6 days a week [unless I had a swim meet], I practiced at 5:00am before school, and then after school I was back at the pool for a 1 hour weight lifting workout and 2 hours more in the pool. After almost 10 years of doing the sport that I loved, it was too hard on my body and mind. So I made the decision to let it go so that I could have a childhood and just be. Now, my parents just want me to be happy.
What's the best piece of advice you were ever given?
The best piece of advice that I was ever given was from one of my mentors. "Every great artist was once an amateur." – I will never forget that. It keeps me going during the tough times.
What advice do you have for women who want to follow in your footsteps?
I've been known as a Pitbull in a skirt, but for good reason. Now that I have stepped into a new light of confidence and business sense, I am firm [yet very polite] with how I handle key relationships as well as my brand. Always remember that you are your brand, so make every first impression count. Dress to kill always and think twice, speak once. The sole foundation of my career is built off relationships. With that said, it says alot about my social skills. Strive to turn your conversations into leads. Study the key players in your field and seek out a mentor for guidance. I am a college drop out for goodness sakes! If I can achieve my dreams without a piece of paper. You can triple my success with one! So stay in school and study your passion. I believe the concept behind success is very simple, if you want it bad enough, it's yours! Whether you have an education or not, this is still a rat race at the end of the day. Fight your ass off to reach for everything that you deserve no matter what it takes. Be the go-to girl and the know-it-all. Be the beauty and the brains. Heck, just be well-rounded!
Is it possible for a woman to successfully balance both love and career? Why or why not?
It is possible because I've seen it happen. My parents are a great example of balance. They are both successful professionals, but still find time for date nights and show PDA like they are teenagers all over again. Also, 95% of my close friends are married and happily juggling career and family as well, so I have alot of great examples of love around me. I cannot wait for the day I can look into my husband's eyes and say, "I do!" It will take a lot of work to find balance, however, if you know my story, then you understand that I am not afraid of a little sweat.
What's next for you?
I still continue to dream. Using the success of my journalism career to fuel another life-long dream, over a 4-year span I authored a young adult fiction novel titled Everything I Couldn't Tell My Mother. It is a coming-of-age story for any woman who has ever questioned her sexual maturity or readiness, stayed silent at a time when she should have spoken up or accepted treatment that was less than what she deserved. Pauleanna's novel is set to be released online and in stores– Spring 2014. My biggest dream is not only to become a national best seller, but I also want to transition my novel into either a sitcom series or a feature film. So I am working hard to achieve that.
Adding yet another role to my growing empire, I currently run a mentorship program for women seeking direction and advice in their careers. New Girl On The Block is a daring guide designed to teach women ages 25-32 how to confidently step out of their comfort zones, dazzle in their chosen industry and make power moves worthy of commanding recognition and praise. Gone are the days where the "New Girl On The Block" feels intimidated, anxious and doubts herself, this program delivers the tools and resources necessary to help her become smooth, savvy and successful. I created this program because I want to help women keep their minds as sharp as the spike on their stiletto. I have an awesome FREE e-book out right now. To download it, please click GIVE ME THAT E-BOOK NOW!
Where do you see yourself in 5 years… 10 years?
In 5 years, I see wedding bells. I also see my empowerment workshops expanding into audiences of hundreds, maybe thousands. I see myself finally maintaining a healthy work-life balance and my businesses ventures expanding on multiple levels all over the world.
In 10 years, I hope to slow down a bit and experience the joys of motherhood and the benefits of the success that I've worked so hard to achieve.
And last but not least, where can readers find you? Facebook, Twitter, Website, etc.
I am on all social networks. Just google me 😉
I love connecting with my readers, friends and family. I am only an email away if you need me info@pauleannareid.com or if you want to follow my life and career closely, follow me on instagram.