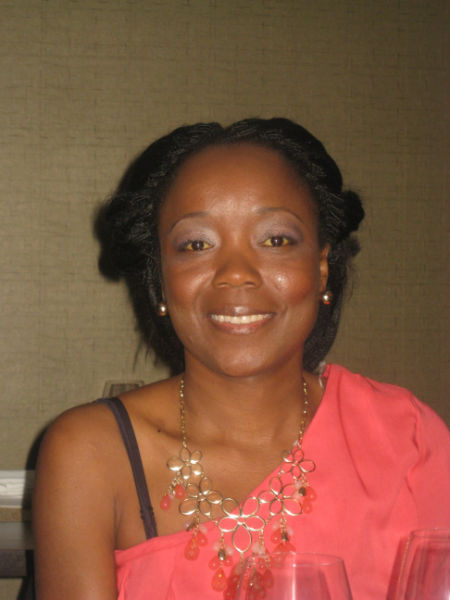 Natasha and I first met roughly two years ago at one of her workshops. I was invited to speak about the power of a first impression and how to build confidence and self esteem in front of a group of young women. It was a pleasurable experience and I walked away feeling on top of the world because I new that I deposited some joy into each one of their lives. But what I didn't know was Natasha's story and what she had to face as a child and now as an adult. She has an illness called Sickle Cell and it has been one of the most challenging obstacles that she's had to face in her life. But Natasha is a fighter and has pushed through the pain and moved on to accomplish many amazing goals. Her story will definitely open your eyes and give you a better understanding about how precious life truly is. With great pleasure, here is our interview.
Today is World Sickle cell Day, how important is it for people to know about this illness and what are the biggest misconceptions?
It is very important for people to know that today is World Sickle Cell Day. In 2002, the United Nations declared June 19 World Sickle Cell Day in an effort to draw attention to this inherited, life-long, chronic blood disorder that afflicts millions globally. Sickle cell disease (SCD) does not have a cure. Sickle Cell is an illness that once a family member has it, it affects not only the individual but the entire family.
Sickle Cell disease is the most common inherited single gene disorder in Canada. It is most prevalent in the African and Caribbean populations, reaching a frequency of about 1 in 10 in these ethnic groups (Statistics Canada, 2010). Sickle cell disease is much more common in people of African and Mediterranean descent. It is also seen in people from South and Central America, South Asia, the Caribbean, and the Middle East. There are many misconceptions one of the biggest one being "It's a Black People Disease."
Take us along the path (personal and professional) that brought you to where you are today.
I came to Canada when I was 2 years old and it was during that time that my parents found out that I had Sickle Cell Anemia. My parents were not very educated in what Sickle Cell was about or how exactly it affected me. So, whatever the doctors told them is what they believed or went with. I, on the other hand, did everything to find out about the illness and used every opportunity at school such as speeches to teach my classmates and teaches what it is that I had and why I was always absent from school.
As I grew up I can say that my worst years for me was junior high school were at times I was hospitalized as much as every two weeks over a period of many months. Growing up I was very self-conscious of how I looked because I was very skinny and my eyes at times were yellowish green whenever I was going to become sick or as they call it have a "crisis". Growing up I enjoyed singing, writing songs and designing. In grade 9, I auditioned for the Etobicoke School of the Arts, which I attended, but soon lost my love for the arts because my parents would not allow me to travel, go to auditions out of town out of fear that I would get sick, that made me very upset so I left and attended a regular high school. Having Sickle Cell often caused me to miss a lot of school but I learned at a very early age to develop personal relationships with my principle and my teachers so they understood that I was not missing class because I was skipping or not interested but because I had an illness. I worked hard in high school to get the grades that I need to get into the program that I wanted to for post secondary.
The Sickle Cell Association was always helpful to me in my later years of high school and when I entered post-secondary I was a single young woman living on her own, holding down a job, going to school full time and battling Sickle Cell. But I was a fighter and I always told myself that Sickle Cell will not control my life so I fought to obtain my dreams and aspiration to become a buyer. I was always determined to not allow this illness to dictate my life and when I wasn't sick I did not want to be reminded that I had his illness so I lived my life as if I wasn't living with a chronic illness.
At times this illness feels as if it has won but I know that God has the last word. In November 2005, I was admitted to the hospital were for the first time in my life I was faced with the ugly truth of this illness that it has the potential to kill you. I became so ill that my blood was drying up and the pain that I was feeling was destroying my vital organs. I clearly remember that I was admitted on the 22nd of November and on December 25th, Christmas day I was taken to the operating room to do a procedure. I knew something was seriously wrong when my doctor asked to speak with my parents and then one day after the procedure my heart stopped and I was rushed to ICU. What I didn't know then that I realized later is that my parents were told that I was going to die. But God's grace and mercy brought me through and as you can see I am still standing. Over the years it was incidents like this that drove my friends and family to push me to take a route in life that I did not want to take. I did not want to be a quitter. I wanted to live a full life and be able to contribute to society.
I graduated from High school and went on to college and after my first year of college I became pregnant with my son. Due to the unexpected arrival of my son I made the decision to no longer pursue fashion as my first career choice but to choose my second career which was law. At the time I was merchandising various stores at Yorkdale, putting on my own fashion shows and going to school. This was very much what I enjoyed, despite being tired I realized that the fashion industry was not a field that would be easy to manage when you're expecting a child. Carrying this child was a true fight. My son, due to the Sickle Cell disease was born at 31 weeks, weighing just 2lbs. 2 oz. If I thought this illness was a challenge I did not know what I would be up against when I had my son to take care of; I was in and out of hospital, I had to maintain a "B" average grade point to move on in my law program but it was a challenge I was willing to take. I must say that the love and support of my son's father, his parents and my parents helped me to accomplish my goals. I graduated from the Paralegal program with flying colours and even before I graduated I landed a job working for 6 lawyers in labour law. I worked my way up the corporate ladder so to speak, but I had a lot of issues on the way due to my illness. My co-workers fought against me and my employer did not understand the illness and at times wanted to hold me hostage in one job. But through determination and prayer I moved from a legal assistant position up to assistant manager for my office. During those years, I volunteered with various agencies such as Peel Victim Services, Sickle Cell Association and Conflict Resolution of Downsview and I continued part-time studies at Humber College in Crisis Intervention and Sheridan College for Conversation French, not to mention that I had a very energetic boy who played soccer, attended French immersion, enjoyed swimming after school and practiced piano. Sickle Cell was not going to stop me from what it is that I wanted to do for myself and the life my son deserved to have.
Currently, I am one of the founders of a Young Women's Program called "Unique" we create workshops and seminars for young women to help build there self –esteem and mentor them to be the best women they can possible be. My desire is to bring awareness to teachers in the school system about children with Sickle Cell to help them accomplish their dreams of obtaining a post education and living out there dreams. This is all possible if kids who have Sickle Cell are given the support they need from the school system.
Why is progression in women's health important now more than ever? What do you think has improved in terms of peoples attitudes towards this disease?
Now in 2012, in women's health it is important that people know their status. Knowing if you are a carrier of the gene can prevent the passing down of the gene to your kids. This is also due to the new born screening that was granted in November 2005 which allows early detection. In turn, allows treatment to be administered at an early stage avoiding early child death and complications. The attitudes towards Sickle Cell is improving because the population at large is curious and willing to be educated about the disease. The multiculturalism reality of our country creates that open mindedness
Tell us about your work with Sickle Cell Ass. of Canada?
I have not only used the services of the Sickle Cell Association of Ontario but I have volunteered with them in their education program. Part of what we do is go within the community either at a school, community health centre, hospital or private residence to educate families, employers or heath care worers about Sickle Cell Disease. We inform them on the most up-to-date information and elevate the myths and misconceptions that people have about Sickle Cell Anemia.
What is the toughest obstacle you've faced thus far?
The toughest obstacle I have been faced with thus far is with my employer understanding my illness and how it affects me. You see, Sickle Cell has no face so what I have found is that if people can't see the physical effects of the disease then they can't understand it. Therefore there is no true form of accommodation for those living with the illness. All employers see when faced with someone with Sickle Cell is the fact that they are always absent from work due to the reoccurring hospitalization. Also, I have found that the older you get while having this illness, the harder it is to get the proper care you need from the healthcare system. I find that it's due to the lack of knowledge about the illness and how treatment should be given to a patient who has the disease.
What are you most grateful for?
What I can say that I am most grateful for is the strength that I've had to keep going and the positive attitude that I've always shown throughout my life. It has allowed me to fight even when times are hard, fight through the pain, fight when people walk away, fight when you're misunderstood and fight so that my son can see the determination that I have to not be controlled by a chronic illness because without both these things this illness can really wear you down.
What's the best piece of advice that you were ever given?
The best piece of advice that I was ever given was not really advice but more of a compliment which was "I have never seen anyone so determined to not only live but live life to the fullest." You see, people realize that when you don't have health and you're always in and out of the hospital and when you are surrounded by sickness and death you have such an appreciation of life.
What advice do you have for women who want to follow in your footsteps?
I would want women, men, teenagers' parents etc. to know that by no means is living with Sickle Cell, taking care of a child, building a career and trying to live out your dreams easy, but it's not impossible. You have to listen to that inner man who tells you that it is possible; you have to believe in yourself before others believe in you. You have to be your biggest fan despite what you may feel or what you may see that seems to be a road block. You have the ability to write your own vision. So write it, live it and enjoy it.
How do you stay inspired?
When I am asked what keeps me inspired, I look up and laugh because it's the na sayers that keeps me inspired. Every time someone says you can't do that or will that get you sick if you take on that task? or remember you have Sickle Cell so you can't or shouldn't. That's when I am most inspired to prove them wrong and that my motto is and will always be that 'Sickle Cell does not control me' so I have to prove them wrong. And I do:) I am also inspired by the fact that I am leaving behind a trail that other young ladies with this disease can aspire to blaze as well and not to give up on their dreams.
How can people contact you to ask questions and to hear more about your story?
People can contact me at natashamorris900@bell.net if they have any questions.
Category: Blog, Career and Business, Girl on Top
Pauleanna Reid is a nationally published journalist, motivational speaker, celebrity fashion stylist and mentor. Through a whirlwind of inspirational lectures, round table discussions and media appearances, she positively influences, challenges and reconnects youth with their passions while providing the necessary tools to prioritize and execute.