I recently had the privilege to sit down with Janet Jackson inside her beautiful salon, JouJou Hair Studio located in Toronto, ON. When I walked through those big bold doors, I was greeted with such a warm welcome by not only the owner herself, but from her clients too! I was extremely impressed by the modern style decor and the simple details which were showcased around the room such as: pictures from her portfolio perfectly framed and centred on the walls and how every single item was neatly tucked away in its place. Surrounded by a beautiful interior which encompassed so much inspiration, I was overjoyed to have this opportunity to pick Janet's brain about how she climbed the career ladder and established herself as a well-respected business woman for over a decade in an industry where many careers die young. Not only was I blown away by her candor, but what I admire about Janet the most is her quiet confidence. This is a woman who truly understands who she is and even with a stacked resume and multi-faceted accomplishments, she continues to strive and achieve everything she deserves. Here is her story…
What is your zodiac sign?
I'm Aquarius.
What is your educational background?
I originally went to school for social work. So I am a qualified social worker. I attended Seneca and I also started towards my Bachelors at Ryerson, but didn't complete it because I ventured off into consulting and styling hair. At the time I was balancing the two. I later explored my interest further and attended George Brown and completed the hair dressing course and after doing that I continued my education in hair dressing. In the hair dressing industry, it's important to evolve.
Where were you born? Raised? Live now?
Born and raised in Toronto. Live in Brampton.
Single or Taken?
I'm happily married.
First job ever?
My mom worked in the food industry and she had a restaurant at the time and so my first job was with her doing very minimal tasks. I was doing everything from handling the cash register to serving coffee. I was 13 at the time and I was getting $3.14 per hour.
First "real" job?
Same as above. It was my first "real" job.
Your 5 "must haves" of the moment?
I only need 4!
-My moccacino from Starbucks. I must have one every morning.
-Cutical curly hair extensions
-False lashes
-Shellac nails
How would you describe your personal style?
My personal style depends on my mood. I do like classic things. I'm all about getting that piece that's classic and I can take it out of my closet years from now, rock it and it will still be in style. I don't go out of my way to be trendy and be that person who's wearing 'what's in' this season. I have a classy side to me, but I also have this thing for leather and metal too.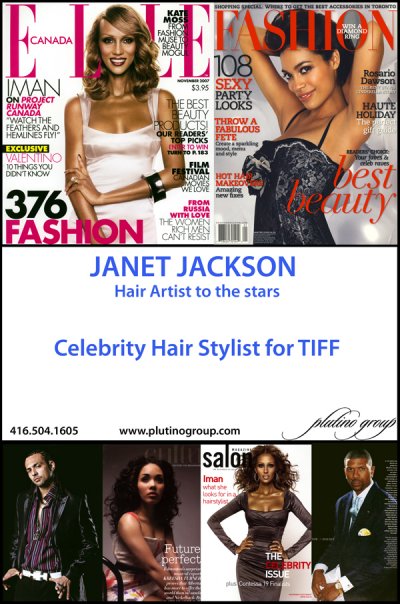 What is your favourite book?
The last book I read was by Iyanla Vanzant called "In the Meantime" and it helped me get through a personal obstacle at the time. However, I have to point out that I am in love with magazines such as InStyle, Essence, Flare, Cosmopolitan, Vogue, etc. It's really apart of who I am and the industry I work in, so it's important for me to keep up with it.
Would you say that it's a source of inspiration?
It is to some extent. I find that many Canadian stylists see ideas in magazines and like to do a 'copy and paste' version in their own portfolios and I'm not into doing that. I like to see things outside of the box. If something has already been done, then leave it alone. I read magazines to know what's going on in the industry and to be able to refer to a specific celebrity look if a client comes into my studio with specific questions.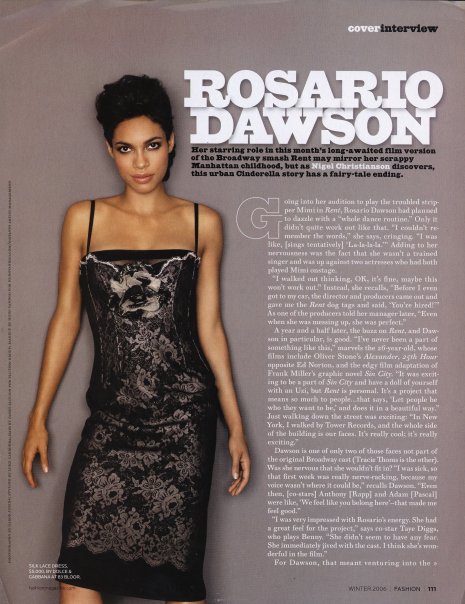 What are you currently listening to?
I love me some KEM. He's a little bit of everything. He's amazing. I'm also listening to Adele. Those two CDs are on heavy rotation.
So what do you do?
I am a celebrity hair stylist and owner of a hair salon called JouJou Hair Studio.
Take us along the path (personal & professional) that took you where you are today.
I started off in social work which is what I thought I wanted to do at the time. I worked as a social worker for 8 years and half way through the 8 years I was juggling both hair styling and social work. I got started in hair styling because a family member opened up a salon in Toronto and at first I helped out as a receptionist/assistant and next thing you know I'm shampooing people and then that evolved into having my own clients. When the salon closed, my clients didn't want me to stop doing their hair, so I rented a chair in the neighbourhood and continued to do those clients. Years later, I began working at a high-end salon, called Amorphous Hair Salon, with a stylist named Buster Berkley. At the time I had no licence or qualifications I was just doing hair and he was the one who recognized my talents and skills and encouraged me to get my license and take my career to another level. At that point I did, I applied to George Brown and that's when I started juggling the two. I was weighing my pro's and con's of the two careers and I was thinking what my salary caps were, how many hours I needed to give to each career, etc. I was thinking about my livelihood and money at the time and I realized with social work, you can only make so much even with all the education in the world. But with hair dressing the sky is the limit and that was the single decision that gave me the push to take hair dressing a lot seriously than I was before.
Tell me more about your celebrity clients. How did these relationships form?
At the time, Buster Berkley was with an agency and was doing music videos, commercials and brought me on as an assistant. It was a great opportunity for me to get my foot in the door and be exposed to a new world. From there Plutino Group, the agency that I'm currently with and have been for 12 years, approached me and asked me if I wanted to be a part of the agency. Through the agency, I met another mentor who educated me about the industry and opened my eyes to see my potential. When I was assisting Buster, I was working with many well-known video vixens. At the time video vixens were really big. And they took notice of my skills and soon thereafter, it wasn't Buster who was doing their hair anymore, it was me. The vixens were telling the directors that they would only do the video if I was doing their hair. So then I started doing videos on my own. My first video was in 2000 and I did the hair styling for the video "Money Jane" by Baby Blue Sound Crew. I was working with music video director Kevin De Freitas. How it works is that you work on different sets and its either they like you or they don't like you. So when another job comes up and they do like you, you are automatically booked and the first one they call. That's basically how the music video industry worked at the time. Then after working with Kevin, everytime he came to Toronto to do a music video, I was automatically on that job and then directors started talking to each other. Having said that I started working with Chris Robinson, Little X, Jessy Terrero and others….but Kevin was the one who took me under his wing and exposed me to different artists from the U.S. In terms of celebrities, it's really my relationships with these directors which really helped my career.
I've had the opportunity to work with many celebrity clients for various television and print work, some of which include: Usher, Ashanti, Black Eye Peas, Pussycat Dolls, Mario, Rihanna, 50 cent, and Trey Songz, Keshia Chante (a client of 9 years), Kreesha Turner, Massari, Melanie Durrant, Shawn Desmand, Iman, Leona Lewis, Deborah Cox and K-OS. My hair styles have also graced the pages of various fashion magazines such as: Fashion 18, InStyle, Flare, Elle Canada, Zink, Canadian Living, ESPN Magazine, Verve Girl, Chatelaine and more.
What's the toughest thing you've been faced with thus far?
The toughest thing that I've had to face so far is owning my own business. I am happy and proud, but the hardest part is the business aspect of the industry because I feel as though there are things about it that take away creativity from me as an artist. A lot of times when I'm concentrating on the business aspect of things, I always think I could be using that energy to create and/or do courses.
What did your parents want you to be?
My parents just wanted me to go to school and do well. They didn't have a specific career choice for me.
What advice do you have for women who want to follow in your footsteps?
My advice is to treat every job as if it is a well paid one. This industry is a very trying industry and you will be required to do free jobs occasionally and do things that you really don't want to do. But always give your best anyways because in the industry there are so many eyes watching you and so many people watching you and really taking you in as a person and artist, that the minute you screw up, they will take notice and go onto the next person. I still do a lot of free jobs depending on what it is. A lot of times when you do those free jobs, these people remember you when the paid ones come around. So that's why I say treat it as if it were a paid one.
Is it possible for a woman to successfully balance both love and career? Why or why not?
It's possible because I'm definitely doing it. It's not easy though. You have to have patience and understanding. It's tough, it really is. I think that's why there's a lot of single business women out there because you really have to find a balance between the two. Having a great structure of friends and family around you to help you out and make things work is definitely important too.
What's next for you?
The sky is the limit for me. I definitely want to venture into a product line. Either that or become the creative director of a hair product company. I'd also like to become a beauty expert on television too! Those are my ultimate goals.
Where do you see yourself in 5 years… 10 years?
Time goes by so quickly, but I'm hoping to accomplish all of my goals in 5 to 10 years.
And last but not least, where can my readers find you?
Facebook Page: JouJou Hair Studio
Twitter: @joujouhair
Website: www.joujouhairstudio.com
Agency: www.plutinogroup.com
Category: Beauty, Blog, Girl on Top, How To, Mentorship, Networking, Self-Help
Pauleanna Reid is a nationally published journalist, motivational speaker, celebrity fashion stylist and mentor. Through a whirlwind of inspirational lectures, round table discussions and media appearances, she positively influences, challenges and reconnects youth with their passions while providing the necessary tools to prioritize and execute.