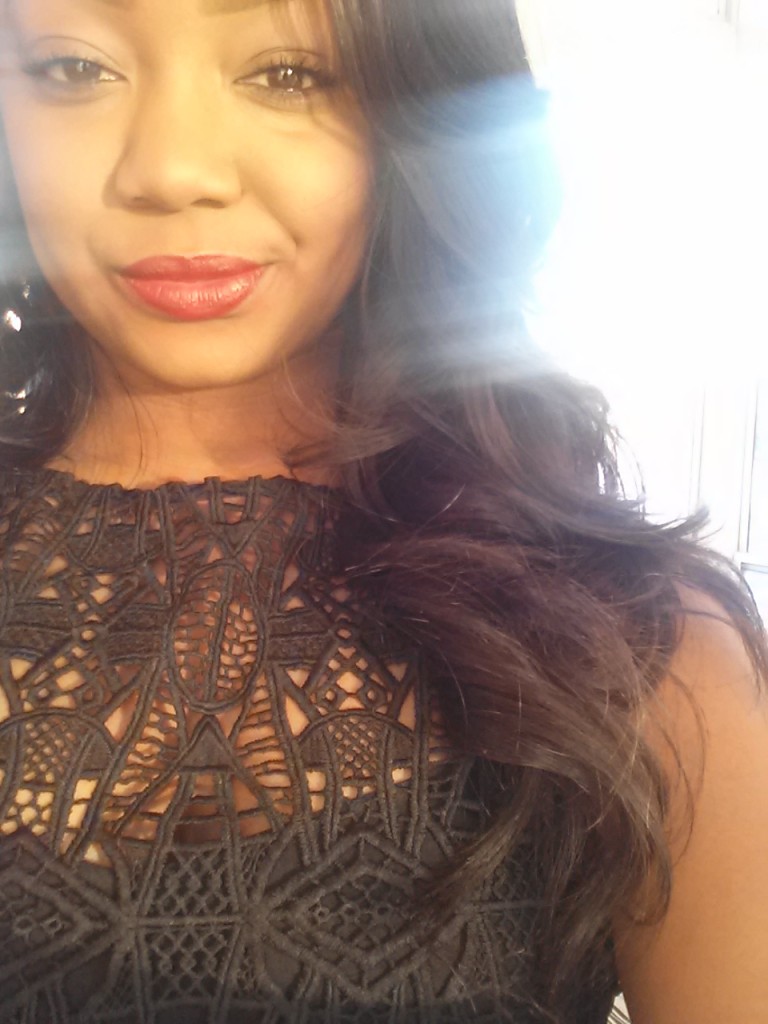 I'm confident.
I'm smart.
I'm beautiful.
I've been repeating these affirmations for years; even on the days when it was hard to believe. One of my best-kept secrets is that my room is filled with sticky notes. I have notes on my tack-board, my wall, my headboard and my mirror. They are all filled will reminders of how awesome I am. Some posts have one word which embodies the woman I aspire to become – Fearless – Successful – Happy – and some posts include fave quotes like, "Whatever follows the words I Am, will come looking for you." or "Your self-worth determines your net-worth." My bedroom is the one place where life seems simple and perfect. I don't even have a television. I go the extra mile because I am very well aware that the minute I step outside the comfort of my bedroom, I will be bombarded with negatives.
Negative news.
Negative people.
Negative media images.
The list continues.
So during the time spent at home, everything I do and say, is in efforts to free my mind from dead things. I refuse to let anyone or anything confine or define me. The truth of the matter is that I will not always know what to do in every situation. But I can save myself a great deal of trouble by putting on my invisible crown every time I leave the house and arming myself with a killer smile and fierce confidence.
"Courage not only means to do something new. It also means taking steps to "be" someone new….One of the first steps in developing a courageous outlook and approach to life is being able to look at ourselves, our beliefs, our attitudes, and patterns. Courage enables us to examine. Examination enables us to choose. – Iyanla Vanzant
I choose happiness. Above all else, I choose to step into my power as a professional woman and own it. This is only one strategy I've used to overcome stress, anxiety and help build my self-esteem. This mentality didn't form overnight, but gradually, I'm glad it did happen. The relationship with myself is far more important than my ties to anyone else. The moment I realized this word of wisdom is when the puzzle pieces started falling into place. I thought to myself, finally, I'm beginning to see my value. I'm beginning to understand what womanhood means and redefine what success and happiness really is.
Unfortunately, not everyone will celebrate your victories. Not everyone will see life through your eyes. Many people clap and cheer from the sidelines. They show up and they show love – which is always appreciated. But there are also many people waiting in the wings just to see you fall.
:: I promised I'd always keep it real with you, and I will ::
I'd like to be really candid with you about some of the storms I've had to trek through recently.
Example 1: About two months ago, I discovered that someone took the time to create a fake Facebook profile of me. They uploaded all my photos, changed my name and was acting on my behalf. The moment I was notified, I reported it. Thank God it's taken care of. But between discovering the page and it being destroyed, I felt so vulnerable. I thought who would actually do something this crazy? But sadly enough, people have motives we know nothing about or will ever understand.
Example 2:  Shortly after my participation at the Branded Conference, an acquaintance called me and lectured me for 20 minutes about the importance of being humble and accused me of thinking I was better than everyone. Now listen, I am the first to admit to my faults and if I ever make anyone feel some type of way, I am the first to apologize. But this guy was just out of line. Raising his voice, belittling me, telling me I ain't shit… – The longest 20 minutes of my life. It was evident that his problem was beyond me. No shade, but some men are thrown off their game when a powerful woman walks into the room. Working with men in business is always a challenge.
Example 3: I have an internet stalker. Well, had (I hope it's over). This woman has consistently tried to destroy my empire by not only stalking my every move but accusing me of fabricating my life story and defaming my name and reputation.
Example 4: There are people who love my new novel. The numbers don't lie. Best-seller status and The Queen Latifah Show rated it a Top 15 Summer Read in 2014. But on the flip side there are people who are not fans at all. One mother told one of my close friends that her daughter hated my novel. Ouch. Some of the characters in my book are also inspired by true people, so you can believe that my body of work has ruffled a few feathers with my ex-boyfriends as well as my High school bullies… which has led to drama we won't even get into right now.
Example 5: Toronto is small. A lot of female entrepreneurs run in the same circles. As much as everyone promotes "collaboration" don't get it twisted, we aren't all holding hands and singing kumbaya. In a perfect world, we'd all have each others backs, but the reality of the matter is that not everyone has your best interest at heart. Some friends have come and gone. Some have tried to befriend me for their own benefit. Mean Girl type-shit. It's extremely annoying and exhausting giving your heart to someone whose only motivation is to crush it.
This is only the tip of an ice berg. Most people see my accomplishments on social media – the glitz and glam, but rarely take note of what I have to fight through to achieve them. It happens to all of us. Just when you think you have it all figured out, something will show up to make you doubt yourself. There are days when I've wanted to throw in the towel. Someone says something so hurtful that I think, yo I'm out. This is not even worth it. Exposing my vulnerable side is costing way too much and now affecting not just me but the people I love too. But then I remember this quote:
"People can call you names, accuse you unjustly, slander you behind your back but they cannot change who you are and the truth you know about yourself." – Iyanla Vanzant
On your journey to doing better, you will encounter obstacles. On your climb to the top, people will throw stones at you but don't you dare stop climbing and don't ever look back. Rico Love (who is one of the realest men I know) says, "It's not about the haters. I'm worried about me and I like me…. a lot."
My confidence has zero competition because I am not focused on anyone else, but myself. I stay in my lane and silence the noise. Life may not be perfect, but it is still good and more good things are in store for you and I as long as we keep moving forward. No one deserves to take our power.
You are confident.
You are smart.
You are beautiful.
Don't ever forget it. Let your light shine and let your heart lead the way.
Peace & Love
PRxo