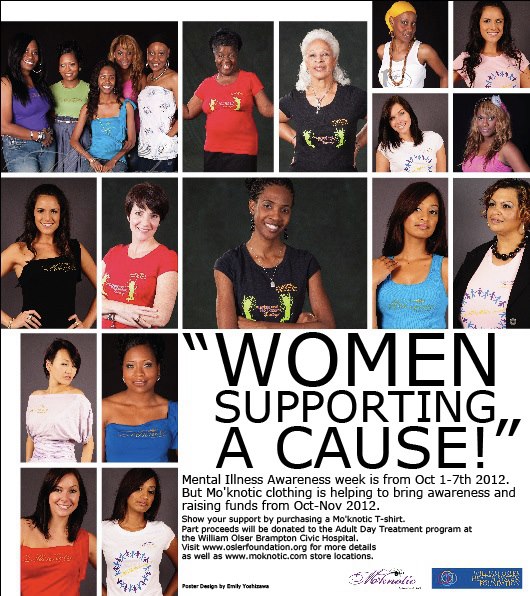 October 1-7 marks Mental Health Awareness week and in celebration of this community initiative, I sat down with my girlfriend Simone Walsh to discuss the importance of educating others about mental illnesses and how she found the strength to overcome her battle with depression. This year, Simone has launched a fundraising campaign and proceeds will go to mental illness programs. As you read her story, I trust that you will find it in your heart to contribute your time or money to this worthy cause. I am so proud of my friend of nearly 10 years. I've watched her grow so much both personally and professionally. She is such an inspiration and I wish her much more success moving forward.
You all know that I've never been one to shy away from discussing my own struggles with depression and anxiety. I suffered from this mental illness for nearly 5 years before reaching out for help. So my advice to any of you reading this post today is that you are not alone. Many men and women are battling this hurdle too. However, the only way to conquer this obstacle is to speak up and ask for help from either your family doctor, parent, friend, anyone! I know what it feels like to stay in bed for days at a time, shut out the world and hope you could just end life because it feels as if it's not worth living. I have been there and I would not wish that feeling upon my worst enemy. It's no way for anyone to live and my biggest regret is not seeking help sooner. Don't wait 5 years like I did. You deserve an amazing life today and it is very possible. Please see below, my interview with Simone Walsh.
What is Mental Health Awareness week?
Mental health awareness week is a national public educational week where it's encouraged that everyone gets information about the different types of mental illnesses. This helps them to be able to better help their friends, family members who they know may be struggling with a mental illness.
Tell us about your personal relationship with depression and anxiety? What was the root of your sadness?
My personal struggle with depression came from a workplace environment where I was the victim of harassment and bullying. The root of my sadness was inflicted by personal attacks that took a toll on my well-being.
After you realized something was wrong, how did you reach out for help considering the stigma and discrimination that is attached with mental illness?
I found help through many public workshops and support groups. I was placed in a basket as being crippled, unable to recover from what I was going through. I had to fight very hard against the stigma and discrimination because if you don't fight, people will believe they were right about you or that you are weak. But I was not going to stand for how I was being classified, so I just had to let my voice be heard through many different channels.
What were your biggest struggles along the road to recovery?
People always bringing up the source or the cause of what sent you into depression. When you're trying to move forward, you want to do just that! You don't want to always be reminded of what caused your downfall and that there is a chance it could resurface on your path to recovery. This will play with your thoughts if you let it.
Once an individual has discovered that he/she has a mental/emotional illness, why do you think they may be afraid to reach out for help?
They might be afraid because of what people might say or even worst, how people might treat them. And that's the thing, when people hear "Mental illness" or "Emotionally distress" right away they may feel you are "unstable" or you are "crazy" rather than actually finding out exactly what is going on. So I encourage anyone who has been diagnosed with a mental illness to take the advice of your doctor and reach out and accept the help and resources that are available.
What is life like after you've conquered your mental illness?
Not sure if I would use the word "conquer" because for some, you never really conquer your mental illness. You get it to a place where you control it. It doesn't control you. There will still be days where it tries to creep up on you but once you understand how to face this illness, life is calm. I know for me it made me look at my life in a whole different way. You get to live life with a new purpose. Knowing that life is a gift and everyday that you wake up, alive and well it is a truly a blessing to go out each day and make a difference in the world.
What pieces of advice can you give those who are suffering from a mental illness?
You matter. You are somebody. And you have to want to beat your illness. You have to get to that place where you realize you deserve so much more in this life. Also listen to your doctors, join a support group or a day treatment program. Just being around people and doing activities will help as well.
What motivates you to empower others through your fundraising initiatives? How can others get involved?
With this t-shirt campaign, the idea came to me when I was designing some summer tees for my line. I had different slogans from my book of poetry that I'm currently working on and I thought to put them on my tees. I wanted to empower those suffering or struggling with a mental illness. If you wear the tee you are basically saying "I'm a fighter and don't treat me differently." Or you wear it in support of a friend or family member. I'm motivated because I see the difference these tees are making and that the ladies who wear them are not afraid to say that they identify with the slogan. I plan to do this annually because I want to help raise money to go towards mental illness programs. To help them expand and reach out to so many other people. Others can get involve by participating in this t-shirt campaign and also making a donation by visiting my clothing website at www.moknotic.com.
Category: Blog, Health and Fitness, Lifestyle, Self-Help
Pauleanna Reid is a nationally published journalist, motivational speaker, celebrity fashion stylist and mentor. Through a whirlwind of inspirational lectures, round table discussions and media appearances, she positively influences, challenges and reconnects youth with their passions while providing the necessary tools to prioritize and execute.