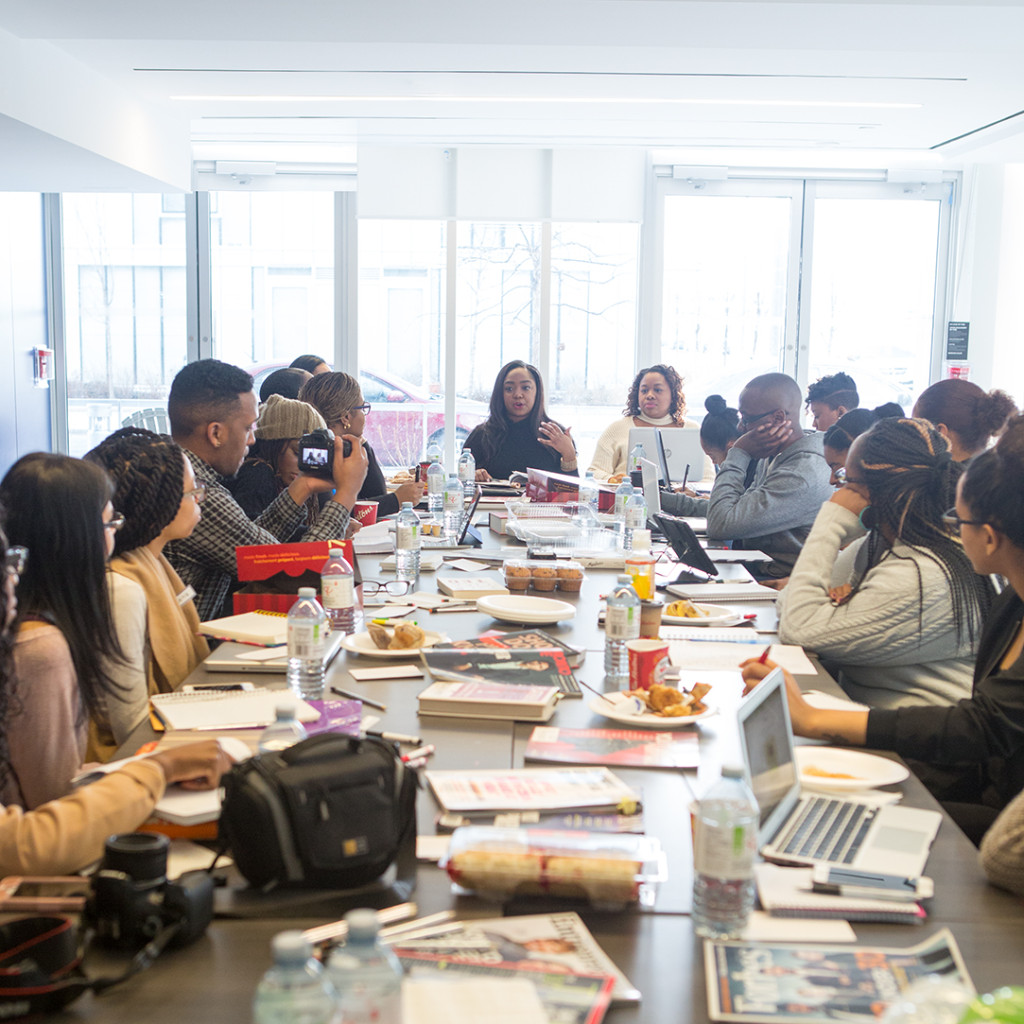 You don't have to do it alone. There are times when the road to pursuing your dreams can feel very cold, lonely and depressing. But just like my girl @myleik says, "Just because you were dealt a crappy hand DOES NOT mean the deck is stacked AGAINST you."

No one is self-made.
At some point in our lives, we've had to stand on the shoulders of giants. My "giants" are mentors, my parents, my pastor, and my team; the people I work with every single day. The above photo is very special to me because it beautifully captures so much love in one room. I stand on the shoulders of each of these individuals in order to make my dreams come true. When I started my first business 6 years ago, I didn't know a damn thing about anything. I couldn't even tell you the definition of a brand or how to effectively manage staff.
However, today I currently manage a team of 22 freelancers. We move like ninjas; swift and silent. This is a behind the scenes photo of one of our strategy meetings where I am sitting around the table with some of the most brilliant minds I've had the pleasure of working with. For 6 hours we filled the room with game-changing ideas, we talked profits/losses, we argued, participated in passionate debates and shared the love and big laughs. Sometimes I can't believe this is life.

I'm curious, who are your personal board of advisors?
I don't know everything, that's why I surround myself with people who are smarter than me. What I do know for sure is that you don't have to go through it alone. To manifest a goal of any kind, it requires accountability partners; people who have your back and are in a position to advise you on your next steps path. You and I are alike. We are big dreamers, doers, believers and achievers, but we also recognize that there is power in partnership. Support, whether emotional or mental is an essential part of success. On days when you want to throw in the towel, your board of advisors can use their words of encouragement to lift you higher.
The only thing is, you have to be bold enough to ask.
So today, I really want to encourage you to pick your head up, rise again and try again no matter how badly it hurts. People are always willing to help you achieve your vision, but it's up to you to speak up and say something.
Delegation is my winning secret to getting through each day. I have a ton on my plate. Not complaining at all btw. But when people ask me how I conquer my goals and get shit done – I keep it very real. This is not a one-woman show.
I love the fact that I am able to work with such amazing, talented individuals always, in all ways. Each person brings a refreshing perspective to the table and inspires the heck out of me too. When bringing someone on, I look for a few key things.
You have to have an insane amount of work ethic
You have to be innovative and take initiative
You have to be able to remain flexible in order to meet crazy deadlines
You have to be able to bring something to the table not just eat from it
In short, step up or step out
"For true alignment, your team has to know and trust your heart" – Michael Hyatt
The same expectations I have for others are the same standards I hold for myself. If there's one thing I know for sure is that I'm willing to do anything it takes to help them succeed and grow. When and if they walk away from my organization, I only hope they feel confident enough to pursue all dreams and know that I have their back for life.
Peace & Love, 
PRxo