January has been so bomb.
It started off slow but then picked up the pace fairly quickly. Darcel Laurie, Founder of Moguls in Media invited me to host her first event in Philadelphia after hearing about my work from my friend Kristy Purnell, a writer for this site and momma of one of my mentees. Whenever I am blessed with a cross-the-boarder opportunity, I always take it if my schedule allows. Toronto is dope, but I love jet setting to spread my message far and wide. The above photo, includes my friend Makini Smith, author of A Walk in my Stilettos and my friend/mentee Tracey Moore, Co-Founder of Moore Beauty Inc. Here's a recap of our epic trip.
Traveling for work is always fun, but traveling with your girlfriends is nothing short of amazing. Btw – if you don't have a circle of girlfriends who will clap when you win, then you are in the wrong circle. We flew in on a Friday morning and trekked all the way to our destination. To keep travel costs low, we took a flight to Jersey then took 3 trains into Philly. ha! (literally dying right now) I am used to the extended travel arrangement (because I have done it a few times before) but Makini and Tracey were in for a treat. Luckily, I was still on their good side once we made it. Later that night we had dinner with a stranger. Her name is Ayana Iman. My friend and New Jersey City University Professor, Lenny Williams connected us all via social media and suggested we hang out because we were like-minded.
Len was absolutely right. Ms Iman scooped us up from the hotel and we all headed to Ruby Tuesday's (nom nom nom) to get to know one another. I live for moments like this because I really enjoy story telling and learning about the path it took others to arrive at their mark. Ayana is a #bossmom, speaker and creative entrepreneur – A recent university graduate too! Cool, calm and collected. She was so warm and inviting.
A few lessons I learned during our conversation
 

Ayana is a freedom fighter.

Just like you and I, she has also experienced personal and professional struggles. Also a mom of 1, she's had to exercise extreme focus on her dreams. Not just for her own satisfaction, but to show her  daughter what success looks like. You should see her light up the room when she mentions the little one. Pure magic.

Ditch the Drake's "no new friends" rule.

I totally understand his point of view, but in my personal journey, new friends are what have created a life filled with abundance. I say, hell yes to new friends, especially ones who live outside your comfort zone.

We all are seeking the same thing.

Love + Light.
The following day was action packed for us. It was non-stop from the time we woke up. Like usual, I arose at 5…6ish and went downstairs to prepare for my 8 am meeting with Rakia Reynolds.
(Who's Rakia Reynolds?!)
Chile' she's my newest mentor and all-around dope-ass chick. We originally met two years ago in DC when we were both on a panel at the Uniquely You Summit. I stayed in touch and organically, we built an awesome friendship. Super fly and super successful, I knew from the moment we met that I really wanted to follow her path and learn from someone who takes risks for a living.  Here are some quick facts.
Philadelphia born and raised
She is the Founder & President of Skai Blue Media
Her story is known nationwide – Literally. Watch her TedTalk here + her entrepreneurial journey is listed in textbooks in colleges across the country thanks to Hill Education who approached her to inspire and motivate our next generation of entrepreneurs
Her client list includes: Serena Williams, Forbes, Dell & Uber Technologies
Self-made entrepreneur; Married and mother of 3
I know right?! That's what I thought too.
We had some private matters to discuss and some girl talk to catch up on. For about an hour and a half we chopped it up. I asked questions of all kinds and she dished out the realness. Following our meeting we joined the ladies for breakfast and that is when shit got real. Tracey and Makini, let me tell you, their growth game is strong. They are entrepreneurs and like myself, crave knowledge. Rakia gladly stayed behind and gave us some key branding advice to take back to Canada. No, I can't tell you the scoop on that one. What was shared at that table, stays at that table! ha. But just know that 2016 is about to be our best year yet.
Next, we connected with my mentee Brook and her mom, Kristy. This is my little BIG girl. We met at the same conference and have been close ever since. She is one of my main reasons for making frequent visits to Philly. I flew out here a few times last year for both her sweet 16 and flew back for her dance recital. There is nothing I would not do for this kid. Let me stop because she is sixteen going on 25. She is grown.
After such a crazy day, Makini and I needed a nap. Lol (we are so old, smh) while Tracey went into the hallway to vlog (check her out). Later that afternoon we took a taxi to the media event where I hosted 30-40 people in an intimate setting. The panelists included: Hells Kitchen Contestant – @Chefchristinehazel, Celebrity Fashion Stylist – Devon Milan Graham, Power 99fm Radio Personality – @capponair, Founder of Uniquely You Summit @Shaleahshaleah, Actress @AminaRobinson, and Professional writer and mentor @writelaughdream.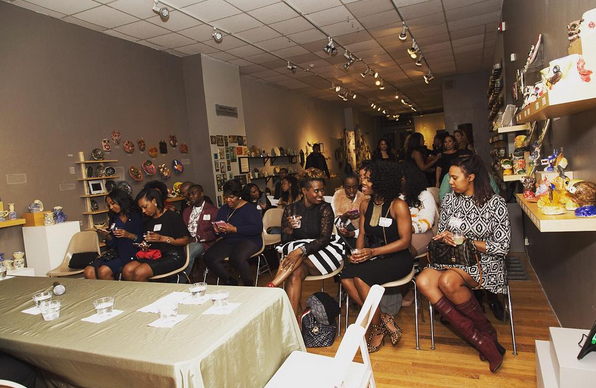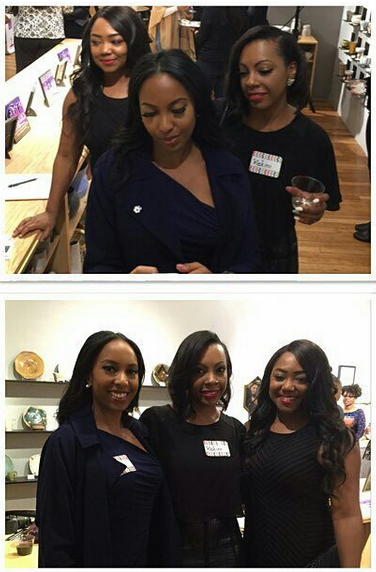 We represented Toronto well. We networked the heck out of that room and we will definitely be back. Philadelphia captured our hearts.
Friday I'm off to Atlanta for another business/pleasure experience, March I'm in Jersey and New York, April I'm in Washington DC. Girl, the hustle is real. I can't wait to share another recap with you.
Peace & Love,
PRxo