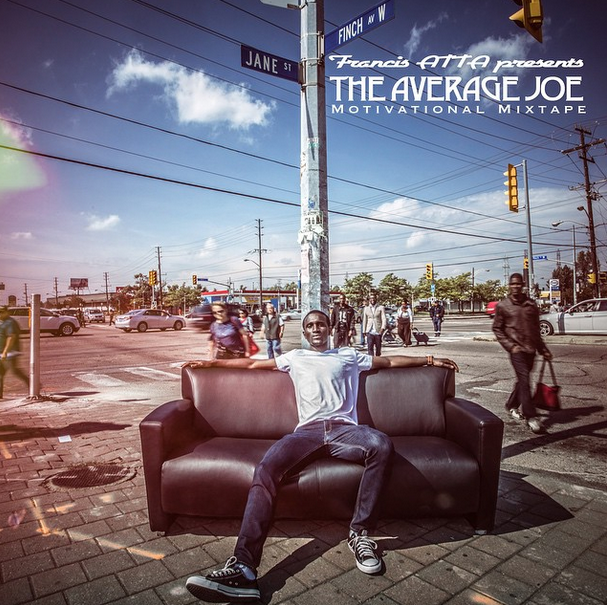 They say you are the sum of your 5 closest friends and if my top 5 includes incredible people like Francis Atta then I must be one hell of a woman. Easily, I can say that Francis is one of my inspirations. Not only is he devoted to building our community, but Mayor Tory recently appointed him as one of the torch bearers for the Toronto 2015 Pan Am & Parapan American games.
While friends and fans celebrate his blessings, behind the scenes Francis has been working on a gift to give back to those who have supported him. Inspired by his life journey, "The Average Joe," a motivational mixtape has been born. You will not hear any rapping on this tape, it's 100% motivational speaking. The entire concept of this project is to encourage people not to be content with being average.
I was fortunate to listen to a few tracks before the public and the introduction alone had me grabbing tissue and trying to hold back tears. Yo' when his dad's voice mails started playing with sweet sentiments I could not hold it together. Within moments, I could tell how much heart Francis invested into this tape.
Anyone who really knows me, knows that I am a huge fan of motivational anything (well… duh right?). I was just speaking with a mentee of mine who is struggling with negative thoughts and it was my pleasure to pass on this link to download. I can't stress how important it is to keep our brain active, our bodies healthy and our souls clean. You have to be very mindful how you speak to yourself and how you spend your time. Reading books, having an accountability partner, listening to awesome audio like "The Average Joe" are all positive deposits you can make into your life so you can make the rest of it the very best it can be.
Even though I am a survivor of depression, I still do have my challenges, but when I feel down or may be having a less than productive day, I pop in a soundtrack and recollect myself. Always helps. Always pumps me up. Always turns things around.
I'm happy to add this tape into my collection and I recommend you do too.
Follow Francis on Twitter
Follow Francis on Facebook
Follow Francis on Instagram
Download his mixtape here
Peace & Love,
PRxo