My entire childhood consisted of academics and athletics. I enrolled in ballet and piano lessons (5years), I was a champion competitive swimmer (10 years) followed by 6 years of rep. soccer. Due to the cutthroat sports world and extremely high expectations from my coaches, fellow athletes and family, both my focus and eating habits were watched very closely. I, too, had very big ambitions. I trained 6 days a week and endured an intense workout and practice schedule. After several years of traveling across the country and competing at an elite level, it only made sense that I shut out the rest of the world so I could zero in on the end goal. My diet was calculated and measured because of the serious consequences that would take place if I slipped up and at a young age I found myself obsessed with perfecting the way that I looked. Whether at the pool or on the field, competition surrounded me and my view on body image was distorted because of the cattiness between teammates that often took place behind the scenes. There were times when I would cheat, sneak away and indulge my sweet tooth, which was closely followed by starving myself to make up for my "pig-like" behavior. I looked into the mirror and hated the reflection that stared back at me. I was a tomboy with broad shoulders and a muscular frame, which was definitely an advantage in the sports world, but in my personal life, not so much. To everyone else, I was lean, fit and in amazing shape, but to me, I was very insecure and felt like I had the body of a little boy.
It wasn't until I entered college that I began to learn how to love the skin I was in. By this time, my love affair for writing and speaking had fully bloomed and I retired my soccer cleats and goggles. My exercise routine was now unpredictable. And I found myself having a deep desire to explore teenage experiences that my athletic career rarely allowed such as: staying out late, partying, dating, sleepovers with my girlfriends and other girly activities of that nature. Over time, as my fitness goals drastically declined, my weight steadily increased. Once the pressure associated with my athletic career stopped, I went to worrrrrrrrrrk! No, you don't understand, I ate everything that I was banned from. Since I was 18 years old, I've averaged a weight gain of nearly 4-5 pounds a year and it's fair to say that I am nowhere near my petite self.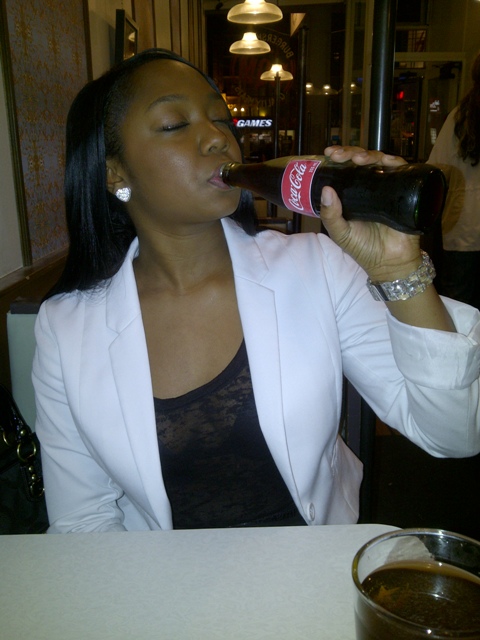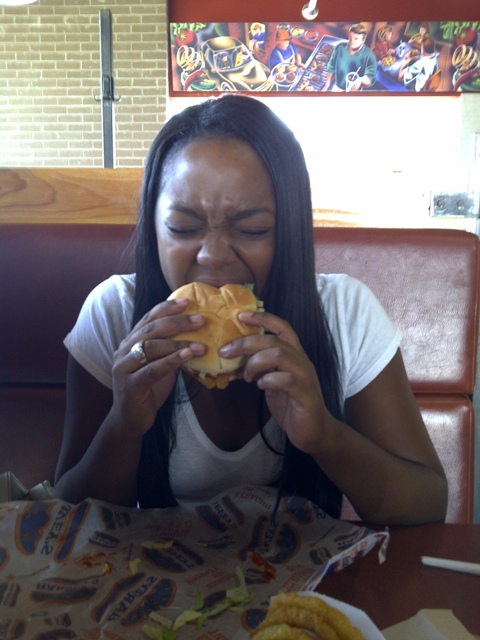 When I look back on my life, I see a long trail of accomplishments, but I also take note of the insecurities and failures. What I am proud of is my ability to connect with self-love and a healthy definition of myself. When I was a size extra small, I wasn't happy. I kept following what other girls were doing to maintain a paper-thin frame, fell into a deadly trap and began disrespecting both my body and mind. The journey from a girl to a woman has been a challenging one. My body has changed a lot and I've had to adjust to a new set of curves that I didn't have years ago. My thighs rub together when I walk, my chest is fuller, my tummy isn't as flat and defined as it used to be and neither are my arms. REALITY CHECK: I am a whole new person now. But you know what? That's okay with me. What is absolutely not okay is how I accumulated this extra 35 pounds: Unhealthy emotional eating habits, late night snacks, and irregular exercise. It even kills me to talk about it, but if I'd like to change, I have to put it all on the table. My next personal goal is to maintain a healthy balanced diet, create an awesome fitness routine and tone my body. I have to point out that I don't want to lose weight, just tone what I have into muscle. I love the way I look, it's just that but some days I hate the way I feel. I get tired easily, drained of energy and my focus isn't always as sharp as it needs to be. One of the reasons I created the "Get Fit" workshop was to help give me the push that I needed to get started on the right track. Every day is a struggle, but I am on my way to a healthier me. I now keep a food diary, take the stairs instead of the elevator (most times), I stopped eating after 730 and I've been educating myself about healthy living strategies so that I don't backslide. It's very important to me that I accomplish this goal because of the simple fact that I have a long list of other goals that need to be tackled and if I have no energy and focus, I can't give 100%.
It is evident to me that I have a food addiction. When the waiters at Red Lobster know you by your first name, then you know this s$!@ is real. I am making a public declaration that I am going to clean up my eating habits and give it everything I've got. I am going to hold myself accountable for my actions and move forward knowing that I don't want to be an unhealthy slob anymore. I want to keep my curves, but maintain them in a more appropriate way. Here are 5 things that my addiction has taught me:
1. THOSE WHO INDULGE, BULGE
I averaged 5 pounds a year since the age of 18. That's 35 pounds in 7 years! Yes, I love being curvier, but at this rate, I could enter a danger zone which will prevent me from doing the things that I love. I'm not striving to be a salad girl, but I am teaching myself how to balance my diet and eat from all food groups. Fast food is only a temporary fix, but isn't worth the long-term effects.
2. YOU ARE WHAT YOU EAT
In the little time that I've changed my diet, I've noticed that I feel lighter and energized. I can only imagine how amazing I will feel after 2, 4, 6 and 8 months. Sloppy isn't cute! Indulging in my favorite foods do more harm to me than good. Of course in the moment, the feeling of sinking your teeth into a fat Big Mac, pizza, chicken wings or seafood platter is breathtaking, but always leaves me feeling like crap afterwards. I literally can't move, can't breathe, can't work, can't do anything. The worst of my bad habits included sleeping on a full stomach. Gosh, just thinking about it makes me sick. I can't believe I treated my body like this.
3. DOUBLE DIGIT DRESS SIZES AREN'T AS SCARY AS YOU THINK
If I was insecure, the fact that I've hit a size 8-10 dress size would probably force me to hide under a rock and never see daylight again. Today, the media showers us with so many definitions of what's cool, sexy and beautiful that it's hard to develop a healthy definition of ourselves. Over time, I've learned to shut out any negativity that comes my way and practice the art of selective hearing. No one has the right to judge me or call me names, so please believe that if that ever occurs in my presence I will shut it down immediately. With an armor of self-love and confidence, internally, I am a better version of me. Technically speaking, I've already won the battle. So heading into the "double-digit" world, doesn't intimidate me, it just means there's more of me to love and I have to dress my new body in ways that will compliment my shape. This summer, I still rocked the hell out of a bikini and I'm not afraid to do it again!
 4. KEEP A FOOD DIARY
If you goes into my mouth, I write it down. It's a lot easier to track my progress if I can see it on paper.
5. CONFIDENCE IS SEXY
If I stand in front of the mirror today, I can honestly say that I will smile wide and bright because I love the skin that I'm in. My food addiction taught me that I'm going down the wrong road and it's time to take a detour. It also taught me that even with a new diet and exercise, I can still be sexy and curvy, but a healthier version. I can still love food, but healthier foods. Changing my habits doesn't mean I can't enjoy myself. I can still live an amazing life, but a healthier one. My food addiction gave me a much needed reality check.
QUESTION: Is there an addiction that you are currently battling? Are you a food lover like myself?! Let's face this challenge together. Meet me in the comment section of this post.
Peace & Love,
PRxo