God is so good. He allowed me to start and finish this year very strong.
Releasing my debut novel back in March was such a dream come true, but having my story featured inside ESSENCE Magazine is more than I could've ever asked for. Keke Palmer looks supa dupa fly on the cover. For those of you who aren't familiar, she is an American actress, television presenter, singer and songwriter. Today she is playing Cinderella on Broadway and is currently the youngest talk show host in TV history.
Here are a few exerts from the article via Necole Bitchie
On snagging the role of Cinderella on Broadway
"I know that the role of Cinderella is primarily for a Caucasian girl, but it didn't stop me from going in and it didn't stop them from seeing me. There is a bit of intimidation. You think about Denzel, Viola Davis, and you think, Only great people can do Broadway. That was the scariest thing about it, but I'm the type who thrives on pressure."
On being single
"I realized that I'm a lot freer of a spirit. That was the beginning of me standing up for myself. I would love to have somebody but this is such a great time in my life, in my career. I really am liking myself."
She also adds:
"What you're ready for, you attract. So I think I have to do some introspection on why I'm attracted to people that can't give me what I want. Maybe I'm not as ready for a serious thing as I think I am. The guys I end up getting involved with, they're into the idea of me, but they really can't handle what I'm about."
Cool right? I love reading about young, fabulous women who have their head on straight. In this months issue of ESSENCE Keke kept it all the way real. But I bet you're wondering how I managed to slide my way onto page 87. In this post I'm going to reveal how it happened.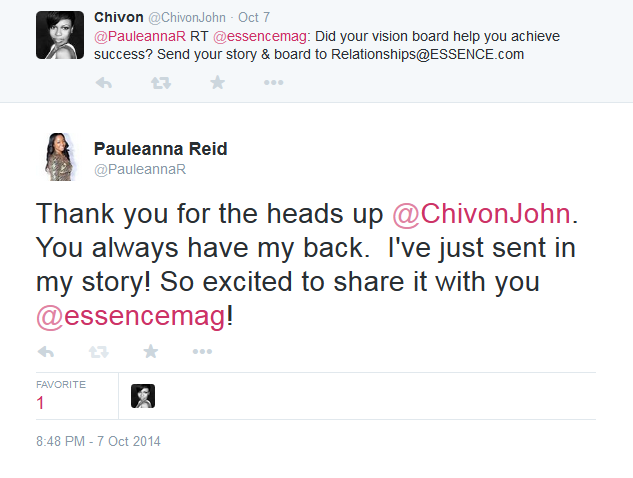 The above tweet is where my relationship with ESSENCE Magazine began. I'm extremely thankful for my friend Chivon because she always looks out for me. Not only does she look out for me, but more than anyone in this world Chivon knows how much I love creating vision boards. The minute she retweeted this and tagged me in it, I made a move. I emailed the magazine right away and sent in my story. Now I have to reveal to you that I briefly hesitated before I hit the send button because it occurred to me that it was very possible that my email could be lost in a sea of hundreds, if not thousands of other emails. I was nervous, but on the other hand I thought it's either now or never. I'm really glad I pushed past my fear because the Lifestyle and Relationships Editor, Charreah Jackson, replied shortly thereafter with interest in my story and the images from a recent vision board party I hosted. We went back and forth a few times and a few weeks later I received the confirmation that my feature would be inside the January 2015 print issue. To say that I was thrilled would be a complete understatement. Girl, I was doing back flips in my living room. I called my closest friends right away and told them the good news.
The photos which are beautifully presented next to my write up were taken by Maryam Toson, my event photographer. Who knew that moment in time would make it into one of the most respected publications distributed across North America. I am very grateful to Maryam for making herself available to me when I host events. She has been an integral part of my brand and I'm glad I can share this milestone with her.
Check me out on page 87. The spread is about vision boards and how to become the woman you've always wanted to be.
In response to my 'thank you' email, Charreah had mentioned that if I was ever in New York I was free to stop by the office and say hello. I took her up on her offer and planned a trip to see her. For me, it wasn't enough to say thank you via email, I made it a priority to thank her personally. Besides, ya'll know I don't do anything average. I have to go the extra mile in everything I do, so I called my right-hand Safia, we bought our tickets and flew out to the United States. Flying through New Jersey was cheaper. So from the airport my Aunt Veronica picked us up and drove us to her home in Brooklyn. I swear it's so awesome having a large family who lives in all parts of the world. I mean, have you seen those NYC hotel prices? Yuck. With that being said, thank you to my Aunty for being such a gracious host.
The next morning we woke up bright and early for my meeting at ESSENCE Magazine headquarters. I've seen NY traffic in movies but had no idea how bad it really was until I had the opportunity to experience it for myself. WTH! Thank you to the million other cars and buses for making me late :/ – and girl, you know I am never late for a damn thang. I was so upset because I didn't want to make a bad first impression. But nonetheless, I pulled up about 7 minutes past ten and walked confidently into the TIME Inc. building. When I arrived in the lobby, I adjusted my clothing before checking in with security. The moment I looked down, bloop, I notice a big rip in my fierce leather jacket. Like really? Now, if you can imagine, my anxiety is past one hundred. So I take off my jacket and luckily had a fly dress underneath so I didn't miss a damn beat honey.
Safia and I got our badges and rode the elevator to the 4th floor and when the doors opened we literally pinched ourselves. The office was everything we thought it would be. The walkway was lined up with beautiful, large images from previous issues on the walls and the lighting was pristine. Charreah greeted us at reception with a big smile. With luggage in one hand and butterflies in my tummy, we followed her to a private area where we had a girl talk. We laughed, we shared, we laughed some more. It was like Charreah was an old friend of ours. I really appreciated how transparent and easy-going she was.
When we made our way back into the reception area, I turn my head only to see the Editor-in-Chief Vanessa K. Bush enter the glass doors, shortly thereafter the President Michelle Ebanks followed closely behind. Of course I played it cool, but girl, let me tell you inside I was in awe. Definitely one of many highlights of my trip.
After leaving the office, we met our new friend Raquel in the downstairs lobby. When I say new, I mean brand new, as in we met online via Instagram the night before. I noticed that someone by the name of @20Somethinglayers was 'liking' a few of my photos. So being as curious as I am, I did some snooping and opened the profile.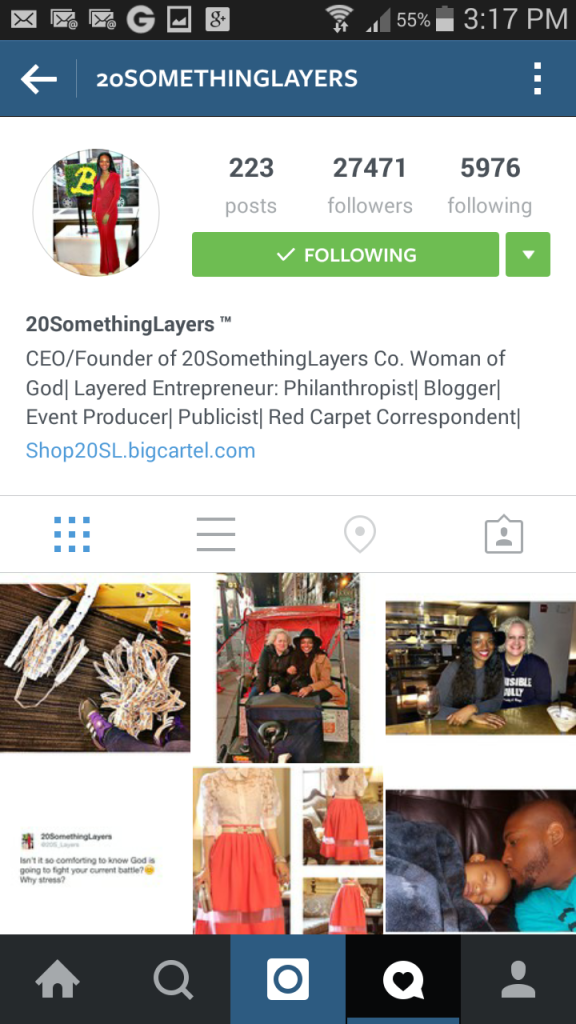 I was instantly attracted to Raquel and her brand. I love what she stands for and it just so happen that she resides in New York. So after exchanging a few emails, we locked in a time and followed through. Like I thought, she was amazing. I learned more about her story and the initiatives she is leading in the city. Raquel has a background in Public Relations, Public Speaking and Event Production. Such a rockstar! She is going to help me embrace New York as a second home and establish my brand in this arena. Check out her blog 20somethinglayers.com
Next stop – We set out to meet Motivational Speaker Hakeem Rahim at a lovely resto called Mangia and then we met the Founder of Pretty Padded Room Bea Arthur at Stone Rose (which overlooked Central Park) inside the Time Warner Mall. I connected with them both on social media nearly one year ago. They are both entrepreneurs and passionate about mental health. So needless to say, we click very well. Once I confirmed my NY trip, I shot them an email right away and we all made time in our schedules. This was the first time we met  in-person. How exciting!
I went to New York for a full day trip and had a very productive visit. The power of social media has rocked my world and I look forward to taking more online connections offline. When I touched down in Toronto at midnight. The next morning I had two meetings then knocked out at 2pm and slept for 14 hours. lmao. Girl, I may look young but I feel old.
Now it's back to work as ususal. I plan on visiting New York again in February.
Peace & Love,
PRxo