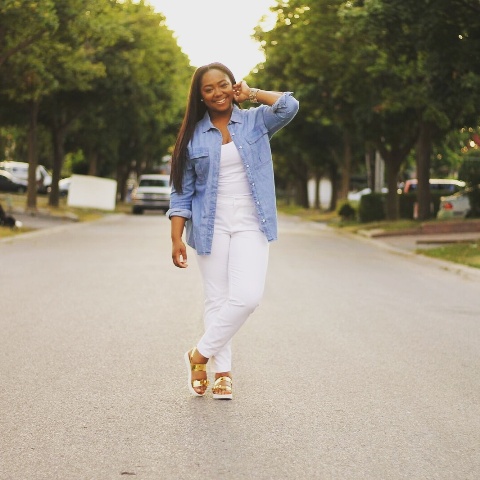 I have not kept any secrets from you. I've shared the worst of times and the best of times when it comes to my relationship with money. You've read everything from my frustration with trying to keep up with the Kardashians to my big announcement of homeownership and everything in between. The conversations you have with yourself determine whether you win or lose – in life and from what I understand, many young adults are afraid to talk about the Benjamins, the Dough', the Dolla Dolla Bills y'all. So I'm going to continue being transparent on my platform to show you that you cannot conquer what you will not confront. The only reason I climbed out of the hole I was in, is because one day I finally told myself that enough is enough.
Girl, I used to be dead-ass broke.
And ain't nothing cute about it.
I still remember the day I checked my bank account balance and saw $2.09.
My early 20s – a hotmess.com
Now that I am thinking clearer and have established financial targets and goals, I'm way more alert and aware of how I spend. If you don't make it a priority to understand money, you will always be a slave to it. Don't be one of those women who have a plan for their outfit every week, but no plans for their future. You are smarter than that and once you read this post, you will definitely know better. The average Millennial woman—from 16 to 34—makes $30,000 per year, and that number is lower for black and Latina women. But what's so interesting about the world today is that even though a 'corporate' job determines your salary, YOU can determine your income. The art of the "side-hustle" is very real. If you are familiar with my brand then you know that I do in fact work a corporate job (that I love) but I also own and operate three successful businesses.
Yesterday I was creeping my mentor (Shannon Boodram, since '09) and came across an awesome clip I really want you to take in. During a slumber party with Shameless Maya, Amy Pham and their featured Guy Next Door, Khleo Thomas – they brought up some interesting questions that I believe every woman should be asking herself.
Didn't you LOVE the clip? Totally looks like fun. I have not had a slumber party in a long-time. So I'm also going to join in the fun and answer these same questions (and a few additional ones). Girl, you need to keep it all the way real with yourself. I'll go first. Let's get it!
Name: Pauleanna Reid, 29
My career: I am the Executive Assistant to the SVP of a high-end Fashion Retailer + a staff writer at a Public Relations firm based out of Philadelphia and New York. I also own and operate 4 businesses. Under my personal brand "Pauleanna Reid" I am a Best-Selling Author + Motivational Speaker. Under my mentorship program New Girl on the Block, I am the Co-Founder + Mentor.  My third business is called WritersBlok where I am the Founder + Editorial Manager + CEO/Celebrity Ghostwriter and I manage a small team of 4 writers (which has always been my dream). Last but not least, my fourth business venture is called Mogul Talk, which is a mastermind group + subscription service for millennials on a mission.
Income streams:
Public Speaking + Hosting
Affiliate marketing
My book, Everything I Couldn't Tell My Mother
WritersBlok
Mentorship, New Girl on the Block
Staff Writer at multiple PR firms in the United States
Executive Assistant at an undisclosed high-end retailer
Annual Income range: Between my corporate and the money streams listed above, I am tipping the 6-figure mark.
Living situation: I moved out of my family home October 2016 and live in the Distillery District in downtown Toronto + I own an investment property in Richmond Hill, Ontario.
Are you currently in debt? Yes, roughly $30,000 but living that "Mac & Cheese" lifestyle to aggressively pay it off.
Education: School of hard knocks. I dropped out of college my 2nd year.
Student Loans: Thankfully, no.
How much do you spend a month "going out"?  Little to none. I typically don't go out to just "chill" but will spend on my friends when necessary for birthdays and such. Once a quarter I will splurge on a weekend getaway if that counts. What kills my wallet is Uber and Uber eats. When I leave my house it's likely for meetings.
Do you have a savings account? Yes. 6 years ago I started saving as little as $20/monthly because that was all I could afford, now I put away about $5,00/monthly. Super important for a rainy day. That number rises or falls depending on various factors – but 500 is safe to say.
Do you invest your money? I don't have stocks or bonds. I wish I knew more about them. For now I just have my eyes in real estate.
Do you invest in an accountant or financial planner? Yes. I have both. Let me know if you'd like me to hook you up.
Do you have a spending/ gambling problem? No. I'm pretty good when it comes to spending. At most, I treat myself to fresh flowers every now and then and a pair of shoes monthly. But nothing crazy. I work 14 hour days, I deserve it.
Do you have good credit? I can be transparent and say that it's average. Like really average. My early 20s put me in the hole big time. I almost ruined my credit completely. So working hard to fix this. Seriously, I wish they taught you this stuff in school. So many of us learn the hard way.
Are you prepared for retirement? I am. I have RRSP's. I have critical illness insurance and life insurance. Plus I try to save a little more on the side.
What was your biggest financial splurge last month? My splurge often isn't on me, my money is invested into people I love. I have 20 part-time employees between all 4 of my businesses in various capacities which means that they need to be paid. Payroll could run me up to a couple stacks/monthly AT LEAST. I also leased a new downtown office which runs me $1,300/monthly. My rent is $600/monthly. And if you have younger siblings and love them as much as I do then you know my kid sister always needs something at some point and nothing brings me more joy than to help her out.
What were/are your biggest struggles financially? Honestly, people don't realize how hard I've worked to get here and the sacrifices I've had to make. I wake up at 4am daily and go to bed by midnight. I don't see my friends often. I don't "go out" and "chill" – why? Because I don't have rich parents. I don't have a baller boyfriend. Heck, I don't even have a college/university degree. All I have is me. If I don't work on my passions daily, I cannot breathe. It's my oxygen. I have been dead broke. I have had to go without. I have had to watch my parents on their own financial journey and step in when necessary. My biggest financial struggle is more mental than anything and keeping up with the idea that I desperately want to secure my future.
What are some of your short-term and long-term financial goals? Short-term goals include keeping my sales funnels full, follow a budget, have an emergency savings account, and pay off these damn credit cards. Ugh. Long-term goals include helping my family and putting us in a position to win. I'd like for all of us to experience more time together, more vacations, more love & laughter, more erry-thang. My parents work hard bruh and I want the best for them. I won't stop until I get that "mom you can stop working now" type money.
List one money book you love: Get Rich Lucky Bitch by Denise Duffield-Thomas
Name another #GirlBoss who is also transparent about her money: My friend Courtney Saunders, Think and Grow Chick
Peace & Love,
PRxo
Category: Arts, Beauty, Blog, Career and Business, Girl Talk, Lifestyle
I am the co-founder of New Girl on the Block, a mentorship platform for millennial women who are dealing with major life and career transitions. In addition, my passion includes advocacy for anti-bullying and mental health in which I contribute my free time spreading awareness, providing expertise on media platforms and delivering keynote talks in schools nationwide. When I'm not working with young adults, I am growing my brand as a content strategist. I have successfully crafted a business in storytelling as a Journalist, Author and Ghostwriter.