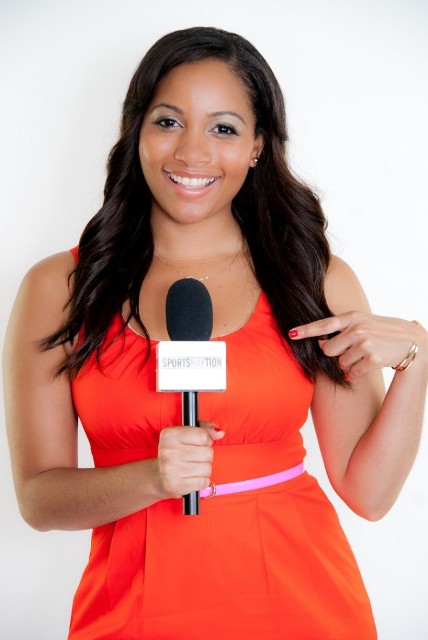 Nadine Liverpool is a woman who keeps her mind as sharp as the spikes on her stilettos. She is killin' the world of sports and opening doors for young females who dream of walking in her shoes. Making your mark in a man's world isn't easy, but Nadine proves that you can find success through passion no matter what challenges come your way. Here's her story!  

How old are you? 20s/30s/40s?
20s
What is your zodiac sign?
Aries. Home of the ram! (whatever that means lol)
What is your educational background?
Well, we'll start with high school. I went to Pope John Paul II Secondary School in Scarborough and then received an athletic scholarship to play soccer at the University of Alabama at Birmingham (Go Blazers!) I received my degree in Psychology with a minor in communications. After moving back to Toronto, I received a postgraduate diploma at Centennial College for sports journalism.
Where were you born? Raised? Live now?
I was born and raised in Scarborough in the Malvern community. I was the girl always playing soccer at McLevin Park or being my tomboy self at the recreation centre. I still live in Scarborough. It's my hood, man.
Single or Taken?
*Cue the Mya beat*
"I'm single, sexy, and free…
Makin my own money…
Looking' for the right party…
And if you're free…spit your best game at me…
If you like what you see…
May be I'll let you share my fantasy…"
(Okay, I'm done.)
First job ever?
My first job was when I was 18. I was a server at Kelsey's restaurant, giving people cut eye when they ordered water. I'm just kidding! (I'm really not. Don't be cheap!)
First "real" job?
Is being a server not a real job? But okay, I'll play along. My first "real" job in my industry was when I became a web editor at The Score Television Network. I interned there for 10 months until I got hired and I was responsible for curating and organizing content on the website, as well as handling all of their social media platforms.
Your 5 "must haves" of the moment?
1. Sports
2. Sports
3. Sports
4. iPhone
5. Wifi
(Just being honest.)
How would you describe your personal style?
Well, most of my friends would say that I have no style; it's the tom boy syndrome I possess. For me, comfy wins the race. I like simple, sexy styles and if you ever see me in a pair of heels, best believe I rather be wearing a pair of Jordan's.
What is your favourite book?
My favourite book is From the Heart: Seven Rules to Live By – Robin Roberts. Roberts was one of the first prominent black female sportscasters to hit the scene and she was my role model growing up. In her book, she talks about her journey in sportscasting and gives her rules in order to be successful.
Rules:
1. Position yourself to take the shot
2. Dream big, but focus small
3. If at first you don't succeed, dive back in
4. Never play the race, gender, or any other card
5. Venture outside your comfort zone
6. Focus on the solution, not the problem
7. Keep faith, family, and friends close to your heart
What are you currently listening to?
Right now I'm listening to Drake's newest album, 'Nothing was the Same' (Tdot stand up!) and I'm always listening to India.Arie. Her music calms my soul whenever I'm feeling stressed or if I need to hear something soothing to make me fall asleep. Her songs reaffirm the kind of person I'm striving to become and the type of energy I want around my life. I constantly have 'Break the Shell' on repeat!
So what do you do?
What a loaded question lol. Well, I am a sports personality and have my own brand called 'SportsNAYtion'. My nickname is Nay Nay so I just added sports to it and voila you have SportsNAYtion. People actually call me SportsNAYtion on the street like that's my real name or something lol. Anyways, I have a YouTube channel where I talk and analyze sports in my own quirky way plus I interview athletes as well. Creating my own personal brand has opened up so many doors for me such as working on a radio show with Penny Hardaway and Charles Oakley plus I've made appearances on NBA TV and MTV.
A part from my brand, I also work for Rogers Sportsnet as a broadcast associate. There, I put together highlight packs and write scripts for the network's flagship show, Sportsnet Connected.
And when I'm not working on sports, I'm usually home watching them. My career is a 24/7 thing but I wouldn't want it any other way.
Take us along the path (personal & professional) that took you where you are today.
Ohhh man. This might take a long. Hope you guys have a coffee in hand. Well for me, I've always been involved in sports. I started playing soccer at the age of 9 and I was blessed with playing for the Canadian and Trinidadian National teams, as well as travelling all over North America to play the game I love. So once that all came to an end after college, it only made sense to keep pursuing a career in sports because it was the only life I knew.
After graduation, I moved back to Toronto and it was rough. I was working three jobs just to survive and I became depressed because I felt so lost. I went from being a top athlete to waiting tables at Boston Pizza. I WAS NOT BOUT THAT LIFE! So I decided to go back to school and enrolled in a post graduate sports journalism program. So many people told me I would be great at broadcasting and I'd always had a deep interest in it, so I thought hey why not. OSAP let's do this!
Well, I absolutely loved my program but totally underestimated the grind that was involved in order to break into the industry. I learned early, that "It's all about who you know that gets you in, and what you know that keeps you there." So in order to find these people, I used to spend hours a day on LinkedIN trying to make new connections and emailing random people asking for an opportunity but I kept hitting a dead end.
So one day my friend said 'Why don't you start your own show on YouTube?' and I thought hmm that's not a bad idea, even though I had no idea how to shoot with a camera or how to edit. But you gotta start somewhere! I would literally sit in my living room and tape myself talking about sports. At first I thought it was corny but I started getting a fan base and a loyal following. Then a couple months later, a radio executive saw me on YouTube and offered me an opportunity to co-host a radio show with former NBA superstars Penny Hardaway and Charles Oakley. I said heck yea! I got to interview some amazing athletes like Deion Sanders, Dwight Howard, and Ray Lewis to name a few. Then a couple of months after I was working the radio gig, I was playing at a charity soccer tournament and saw sportscaster Tim Micallef from The Score Television Network and asked him if I could be his intern. He looked at me like I was crazy but I knew I just had to go for it, I had nothing to lose and because of my balls he actually said yes and boom! I was in. Interning for Tim was one of the best industry experiences I've had thus far because I got to see how much work it takes to be great at your craft. The amount of research and prep Tim put in just to host a 30-min show was astonishing to me but I was so blessed to see first hand how hard I would have to work to reach my goals.
Even though I was still in school, doing radio, and interning at The Score, I got a job working for Toronto FC in game operations and also became the host and analyst for the Canadian Soccer League on Rogers TV. Did I tell you guys I'm half Jamaican? lol I'm really not but the way I worked, I felt like I secretly was. I wanted to make sure I had as much as experience I had to put myself in the best position to succeed.
A year later, I launched my own start-up called The Sports Group, which is a platform geared towards helping young professionals that want to work in sports. I understood first hand how hard it was to break in and I wanted to find a way to help others find easier access in turning their passion into a career. I had a panel called 'Fast Break', to teach people what it took to break into sports and had panelists from ESPN, The Score, Canadian Press, and NBA TV. It was a huge success and my goal is to create more events and workshops so people can build their network and improve their craft.
My brand SportsNAYtion has grown quite a bit and this year I've made appearances on NBA TV Canada, as well as MTV Canada and have made tons of guest radio appearances. I've only been working in the industry for 3 years and have accomplished some amazing things all because I refused to stop grinding. My goal is to become the Necole Bitchie of Sports Media and have a successful company in The Sports Group. With God's will, I will make it happen.
What's the toughest thing you've been faced with thus far?
Rejection, rejection, rejection! Working in sports media you'll meet a lot of people that are filled with 'empty promises'. People that offer you an opportunity and then never call you back. Or applying for a job that you know you're perfect for and find out someone way less qualified got the job. It was tough and I'm not going to lie, it effected me a lot. I'm an athlete. If I score three goals and have two assists, I know I'm going to make the team but the real world doesn't work like that. In this industry, a girl could have been bench captain all her career but still get picked over someone who scores every game because the coach likes the way she wears her shorts. I learned early, it was just a part of the game and I couldn't let the haters break my spirit or my ambition. I now know that 'rejection is just God's protection'. That quote couldn't be more true.
What did your parents want you to be?
My dad wanted me to become a professional soccer player and I don't think my mom cared what I was, as long as I had a job.
What's the best piece of advice you were ever given?
Jemele Hill: 'Don't be Bitter, Be better…"
Going back to the rejection I faced in the industry, I used to be mad bitter. I kept focusing on the problem, instead of trying to find a solution. It took some time but I realized the more I focused on other people, I was losing focus on myself. So now I live by Steve Martin's quote, "Be so good, they can't ignore you" and living by that principle has helped me a lot with my grind.
What advice do you have for women who want to follow in your footsteps?
As cliche as it sounds, you can do anything as long as you put your mind to it. It's hard being a woman looking to make it big in what is seen as a man's world, so it's challenging. If you're mentally tough and are truly passionate about being the best at your craft, then there's nothing or nobody that can stop you. Do what you love and the money will follow.
Is it possible for a woman to successfully balance both love and career? Why or why not?
Well being that I'm single, sexy, and free I don't know how much I can speak on the topic of love. For me right now, dating seriously isn't really a priority as much as working on myself is. I have no problem if that sounds a little selfish but I believe the more I work on myself, the right guy will be soon to follow. But I think for sure a woman can successfully balance both love and career, I just advise females not to hold back on their career just in order to find love. Fight for both because you deserve it.
What's next for you?
I'm just working on building on all my babies (SportsNAYtion and The Sports Group) and working towards my goal of becoming a full-time entrepreneur. I have a Type A personality, meaning I like to be in control but mostly I think I'm very talented and have a lot to offer but the only way the world will see it, is if I find a way to showcase it myself. I'm not going to wait for the opportunity, instead I'm going to create it.
Where do you see yourself in 5 years… 10 years?
In five years, I want to be a full-time entrepreneur, take my brand SportsNAYtion to another level, and become the biggest online sports personality, or as I said before, the Necole Bitchie of Sports. I want to travel and cover sporting events all over the world, interview athletes, as well as produce documentaries. I want to see The Sports Group become a prominent sports industry development company and yes I would like to be married with a couple of kids. Preferably boys because girls are just way too much drama for my blood pressure.
And last but not least, where can readers find you? Facebook, Twitter, Website, etc.
"I pee sitting down and know my sports…"
You can find me at:
Youtube: youtube.com/SportsNAYtion
Twitter: @SportsNAYtion
Instagram: @SportsNAYtion
Facebook: facebook.com/SportsNAYtion
Website: www.sportsnaytion.com