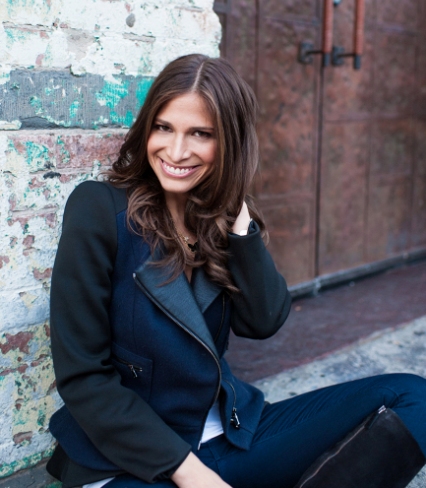 Lindsay Kriger is a relationship & self-love expert, coach, author and blogger. Social media is the driving force which sparked our friendship and I believe we were brought together for a unique purpose. Lindsay and I have a ton in common. We are millennial entrepreneurs, we believe passion can take us anywhere, and most importantly, we have dedicated our lives to empowering women and girls. Lindsay's energy is electric and I'm really looking forward to watching her next power moves. Slowly, but surely, she is building an empire and is a prime example to young adults everywhere that you can thrive in the world you desire. Amongst her many accomplishments and on-going projects, Lindsay continues to help females across North America tap into self-love so that they can become a magnet to all of the amazing things that life has to offer. This chic rocks! I'm happy to feature her as this week's "Girl On Top". And hey! You never know what could be in store for the future, you just might see us team up for a fabulous collabo. The sky is the limit. Here's her story!
How old are you? 20s/30s/40s?
I'm rockin' my 20s and loving every minute.
What is your zodiac sign?
Aquarius, baby. We have three masters, and I've learned to love all of them.
What is your educational background?
I have a BA in Psychology from NYU, but since they don't offer a degree in relationship-ology, most of my training comes from life experience and mentors. I've studied with spiritual gurus, bestselling authors, and love and relationship thought leaders from around the world. I was the youngest person to graduate from Alison Armstrong's PAX Mastery and Leadership training program, and Karen Salmansohn and I just co-authored a book (due to be published in 2014 woo!) called It Has Nothing and Everything to Do With YOU.
Where were you born? Raised? Live now?
I'm a native New Yorker born in New York City, raised in Tenafly, New Jersey, and now back to my roots and living in Manhattan.
Single or Taken?
Happily taken 🙂
First job ever?
I did PR for Helmut Lang when I was in college.
First real job?
They say you never forget your first . . . real job. Mine was working as an associate media planner at Mindshare.
Your 5 must haves of the moment?
Seriously, only five? Ok, if I had to narrow it down, I'd have to say,
– 123 minutes of Magic with Michelle Joni (Michellejoni.com)
– Sophia Webster lace up shoes (just got them)!
– My iPad Mini
– Harmless Harvest 100% Raw Coconut Water. I'm maybe a tiny bit obsessed.
– Blank NYC gray & white striped jeans
How would you describe your personal style?
I like outfits that say, I am proud of my body, and I respect my body to boot including my booty! Yeah, girl! I guess you could say my style is classy/sexy with a touch of fabulousness and fun. I like to pair classic items with new trends and offer a bit of eye candy no junk food here, we're talking gourmet Godiva eye candy.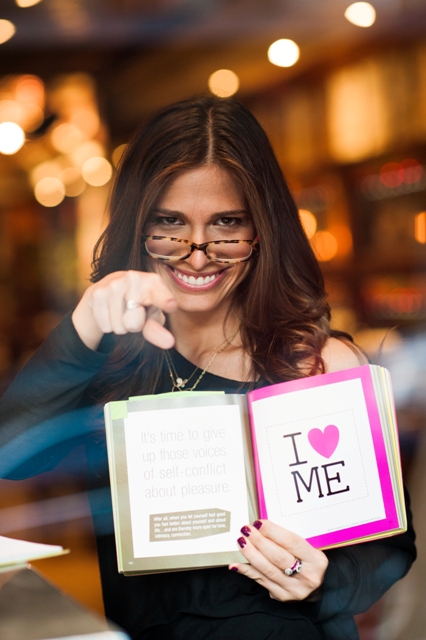 What is your favorite book?
It's a tie between Broken Open by Elizabeth Lesser, and Prince Harming Syndrome by Karen Salmansohn. I love books that make you see people and the world differently, and both of these changed me forever.
What are you currently listening to?
These days I've got The xx and Alicia Keys on repeat.
So what do you do?
I help women see that being in a good relationship with someone else starts with the thoughts and feelings they have about themselves. I teach them it's possible to love themselves and their partners at the same time. So many women get bitter about love and relationships, but extraordinary relationships can and do exist, you just have to create the space within yourself and your life to allow them to thrive. I get to show women how to make that happen.
Take us along the path (personal & professional) that took you where you are today.
Honestly? At age 20, I was a hot mess. I had an experience with a Prince Charming turned Prince Harming who I had thought was my one and only. When he broke my heart into 1,235,930 different pieces and I was still crying about it six months later, I started asking myself questions like, What does it take to be in a great relationship? and Who do I need to be to get the love I want? I was determined to understand what had gone wrong, and how to avoid making the same mistakes again, so I set out to learn everything I could about creating a successful, happy relationship. I wanted to make peace with my past, and be stronger and wiser in the future.
I started researching everything I could find on men, women, love, biology, psychology, and relationships. I read so many books, and attended every class, seminar, and workshop I could. That's how I met relationship expert Alison Armstrong, and took part in her yearlong PAX Mastery and Leadership Program when I was 22. All of the information transformed my life in such a big way that I knew I couldn't keep it to myself I needed to bring it to other young women in a fresh new way. So my mission became to help women achieve the relationships they want by not only understanding men at an earlier age, but also by getting in touch with themselves.
After reading Karen Salmansohn's book Prince Harming Syndrome, I knew she'd be the perfect person to partner with on my mission. I reached out to her, a bestselling author, and became her mentee. That has been an amazing experience, and we recently co-wrote a book called It Has Nothing and Everything To Do With You, which is due to hit shelves in 2014.
When I was 23, I wanted to get a different perspective on love and partnership, and I figured trekking nearly 10,000 miles to Israel would give me the view I was looking for. While I was there, I studied alongside experts, and then, because self-love and body wisdom are the foundations of healthy relationships, I went and learned about healing breath and the mind-body-spirit connection in Thailand.
I guess that brings us to today, where at 24, I'm coaching women, putting on fun events (my latest event is called emBody Sexy), and launching new programs.
What's the toughest thing you've been faced with thus far?
My father unexpectedly passed away when I was 17 and that forever changed my world.
What did your parents want you to be?
My parents always had a hunch I was going to be a therapist. I guess their first clue was when their 12-year-old was giving them advice. Hey, you're never to young to break into the biz.
What's the best piece of advice you were ever given?
You are enough just as you are right now. We are all born divine the way we are supposed to be. You don't have to put on a performance or live anyone else's vision of life. You are already good. You are you. Your ego, your job, and your knowledge are all meaningless in the grand scope of this brilliant universe. Our lives are but a moment in time, a flash of light. Don't waste your time here trying to prove yourself to someone else. Instead of getting caught up in trying to be somebody, just be. Just be you.
What advice do you have for women who want to follow in your footsteps?
You don't owe homage to your past. No one can escape getting hurt, but everyone can choose how to handle the hurt. Be willing to let go of it. Relinquish the past and forgive so you can move forward and be who you want to be. Live your life for yourself, and not in an attempt to prove your worth to anyone else. You were born worthy. So live, and be authentically you.
Is it possible for a woman to successfully balance both love and career? Why or why not?
Yes!
Can I say that again?
YES!!
Life is about making choices and figuring out how to get what you want. Your love life needs to be just as important as your work, and it's up to you to make it a priority in your schedule. If you want love, you will make time for love. A problem often occurs when women stop doing what they love because they are caught up in love. It is possible for women to honor themselves, their careers and their partners at the same time. It helps to pick a partner who supports your career and is your number one fan (and vice versa) this way you can share in one another's victories.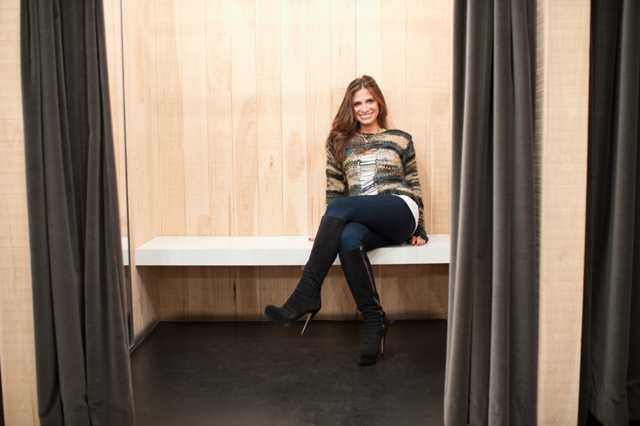 What's next for you?
I recently finished co-authoring a book called It Has Nothing and Everything to Do with You with best-selling author Karen Salmansohn. That's due to hit bookstores September 2014. That month is a big one for me, because that's also when I start working on my graduate degree at NYU. Between now and then, I plan on hosting more workshops, like my latest, emBody Sexy, and continuing to create new coaching programs.
Where do you see yourself in 5 years… 10 years?
Five years from now, I see myself teaching workshops, publishing another book, and collaborating with other experts in the field to build a program to help women master all areas of their lives. My goal is to empower women to live whole lives. It's not enough to learn mastery of health or the art of relationships, women need tools in all of these areas, and I want to build an accessible, affordable program for young women to get the tools they need at an earlier age.
And last but not least, where can readers find you? Facebook, Twitter, Website, etc.
www.LindsayKriger.com
Twitter: @LindsayKriger
FB group: Get The Love You Want