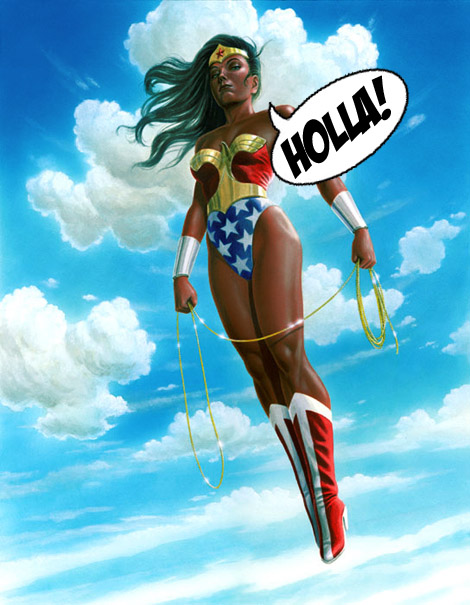 Most days I feel like Wonderwoman and today is definitely NOT one of those days. It's true. Today I woke up feeling a bit off and a little hesitant to move forward with my day. So I went for a run at 5am to clear my head. When I came home I pigged out on my favorite cereal (Honey Nut Cheerios) and while catching up on my reading, I discovered this kick ass article on the Huffington Post about career and success lessons from executives, politicians, physicians, celebrities, authors, filmmakers, journalists, nutritionists and more. It was such a nice pick-me-up. It's so inspiring to see other entrepreneurs hustlin' and bustlin'. We are all trying to make it and we all make mistakes along the way. Take this in. This is key advice from women you and I look up to. For the full list, click HERE.
1. "First of all, you have to work hard and earn it."
That was White House senior advisor Valerie Jarrett's basic but essential advice to young women on HuffPost Live during Thursday's conference. Once you've done that, you may be surprised what happens when you ask for more money or other perks. If you don't do it, all of the strategizing and networking in the world can't help you.
2. You're interviewing them, too.
"When you're in a job interview, you should remember it's a two-way street," said Jarrett. "Yes, you're trying to make the best case for why you should be hired, but they need to make a case for why this is an environment where you're gonna do well."
3. Seek money and power for the change you can effect when you have them.
Discussing why young women often don't negotiate for their entry-level salaries — which usually means they make less than their male peers throughout their careers — Cindi Leive, editor-in-chief of Glamour magazine, hypothesized, They don't want to be that person who believes in money and power above all else. They believe in their own personal growth, and they want to work for a company that has a mission.
All of that is fantastic, she continued, but if you fall too far behind men and you don't fight for at least what you are worth, then you're  not going to be the person who's in charge and able to create a culture that has meaning.
4. Your best ideas won't come in the office.
When wellness expert Tony Schwartz asked audience members where they get their best ideas, their answers included the shower, running, meditating, walking, even sleeping. Not one person said "in the office."
5. Stop apologizing for those ideas.
No, really. Comedian Susie Essman observed that when she first started doing standup, "All the women had funny material and they were apologizing for their material." Cindi Leive said she lays down the law with young women in her office, telling them, "You're not allowed to do that thing that women always do when they're pitching their ideas, which is say, 'This probably isn't a good idea.'"
6. Do not ask a stranger to be your mentor. Especially if that stranger is Valerie Jarrett.
"Sometimes young women come up to me and say, 'Will you be my mentor?'" Jarrett told HuffPost Live. "A mentorship is a relationship, and it's earned over time. Just as you earn a promotion, you earn that somebody else is gonna invest in you. If I recommend somebody for a job, that's my reputation on the line too."
7. That thing you're doing isn't multitasking.
"Multitasking is a myth — what we actually do is task-switching," psychology professor Amishi Jha said. "Out of all the things our mind does, that switching function is the most depleting." Psychologist Donna Rockwell put it a little more bluntly, "There's no such thing as multitasking — you're just not doing anything well."
8. Introverts have an unexpected advantage.
Work can feel like an environment that requires being on all the time. But people who naturally keep more to themselves may have a leg up when it comes to dealing with stressful scenarios. "One of the benefits of being an introvert is that it's not very hard for me in these situations to find a sense of calm," said Susan Cain, author of Quiet: The Power of Introverts.
9. Hanging out with your coworkers is part of your job.
Who has time for that? If you want to get things done, you do, suggested Senator Claire McCaskill (D-Mo.). Taking time to socialize with other members of Congress helps them all work together much more effectively, she said. When we are socializing, talking about things other than work, invariably the next time we try to work together, it just goes better. We listen to each other more carefully. I think compromise has a more likely chance of surviving.
The female senators, she added, are good at setting aside downtime with each other. They get together every three months for dinner, she said, and once a year they invite the women on the Supreme Court to join, "and then we really gossip."
10. Career moves that might look like a step backward can be a step forward.
Valerie Jarrett told the story she related to the graduating class at Wellesley when she delivered their commencement address on May 31. She went from a corner office at a law firm to a city government cubicle that looked out on an alley. "It took a lot of courage to basically walk away from the conventional knowledge of the track I should be on and go work for city government," she told Huffington and Brzezinski. But as she told HuffPost Live, "From the very first day I moved in there, I knew that I was where I belonged.
(Source : Huffington Post)
Peace & Love,
PRxo