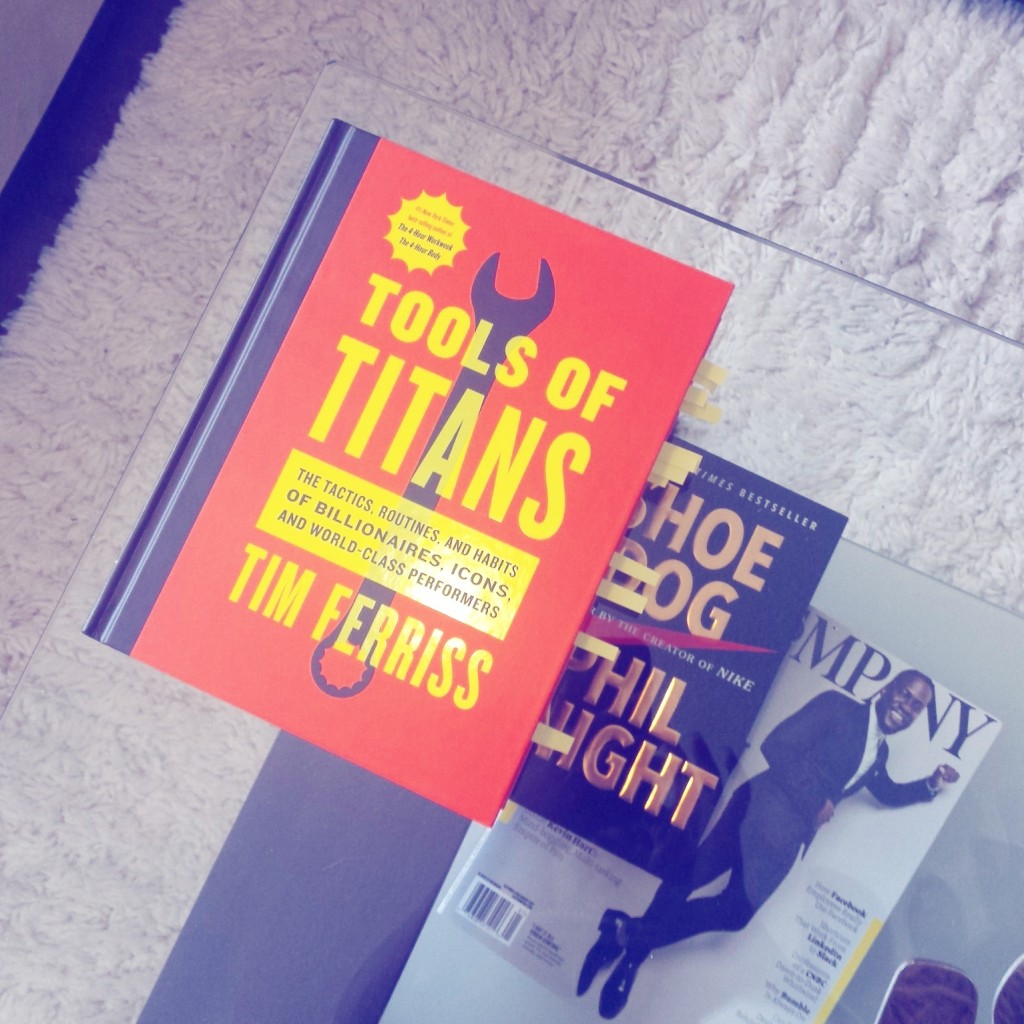 My thoughts: This is by far one of the best books I've read in a long time. As a person who studies CEO habits for fun, I can't tell you enough how much the tactics, routines, and habits have enriched my life. There's something so fascinating about the way successful people think and do things. I find great pleasure in taking insight from other business owners and applying it to my life. One of my favorite pieces of advice is from Seth Godin, "Send someone a thank you note tomorrow." One of my favorite gems I can apply to my business right away is again by Seth Godin, "The blog post I refer people to the most is called, 'First Ten'. and it is a simple theory of marketing that says: tell ten people, show ten people, share it with ten people; ten people who already trust you and already like you. If they don't tell anyone else, it's not that good and you should start over. If they do tell other people, you're on your way."
Favorite Quote:
Don't be afraid to do something you're not qualified to do. – Dan Carlin
Synopsis via Amazon:
For the last two years, I've interviewed more than 200 world-class performers for my podcast, The Tim Ferriss Show. The guests range from super celebs (Jamie Foxx, Arnold Schwarzenegger, etc.) and athletes (icons of powerlifting, gymnastics, surfing, etc.) to legendary Special Operations commanders and black-market biochemists. For most of my guests, it's the first time they've agreed to a two-to-three-hour interview. This unusual depth has helped make The Tim Ferriss Show the first business/interview podcast to pass 100 million downloads.
"This book contains the distilled tools, tactics, and 'inside baseball' you won't find anywhere else. It also includes new tips from past guests, and life lessons from new 'guests' you haven't met.
"What makes the show different is a relentless focus on actionable details. This is reflected in the questions. For example: What do these people do in the first sixty minutes of each morning? What do their workout routines look like, and why? What books have they gifted most to other people? What are the biggest wastes of time for novices in their field? What supplements do they take on a daily basis?
"I don't view myself as an interviewer. I view myself as an experimenter. If I can't test something and replicate results in the messy reality of everyday life, I'm not interested.
"Everything within these pages has been vetted, explored, and applied to my own life in some fashion. I've used dozens of the tactics and philosophies in high-stakes negotiations, high-risk environments, or large business dealings. The lessons have made me millions of dollars and saved me years of wasted effort and frustration.
"I created this book, my ultimate notebook of high-leverage tools, for myself. It's changed my life, and I hope the same for you."
I am the co-founder of New Girl on the Block, a mentorship platform for millennial women who are dealing with major life and career transitions. In addition, my passion includes advocacy for anti-bullying and mental health in which I contribute my free time spreading awareness, providing expertise on media platforms and delivering keynote talks in schools nationwide. When I'm not working with young adults, I am growing my brand as a content strategist. I have successfully crafted a business in storytelling as a Journalist, Author and Ghostwriter.