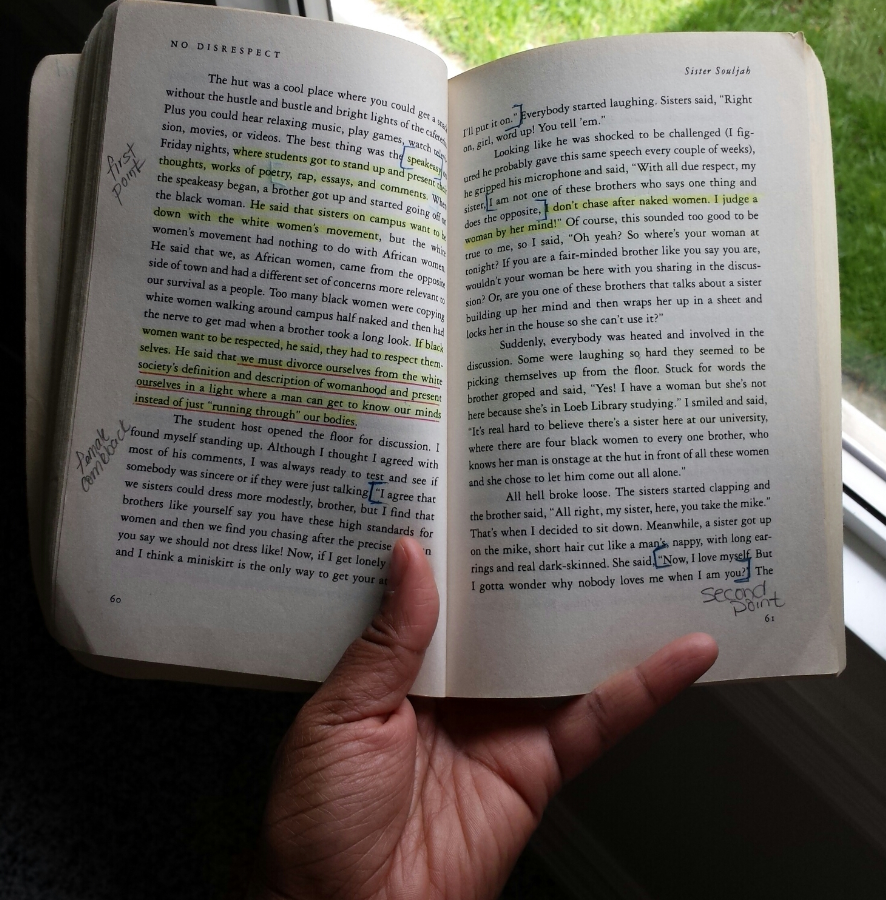 My thoughts: It's so disappointing how underrated this book is. Her first of many New York Times Best Sellers and one of my greatest inspirations as a writer. I've read it at least 3 times and will continue to read it until I can uncover every lesson.
Favorite Quote:
"I told him my love for the black man was so deep and profound that it was not something to be trifled with. When it was, I was slow to heal. I was still open to relationships but I had one requirement – honesty."

Synopsis on Amazon:
Rapper, activist, and hip-hop rebel, Sister Souljah possesses the most passionate and articulate voice to emerge from the projects. Now she uses that voice to deliver what is at once a fiercely candid autobiography and a survival manual for any African American woman determined to keep her heart open and her integrity intact in 1990s America.
Each chapter of No Disrespect is devoted to someone who made a difference in Sister Souljah's life – from the mother who raised her to the men who educated (and mis-educated) her about love and each bares a conversational truth about the black condition in America: the disintegration of families; the unremitting combat between the sexes; and the thousand and one ways in which racism continues to circumscribe the ways African American people see themselves and treat one another. The result is an outspoken and often outrageous rejoinder to the pieties of race, class and gender by a writer who can be wise, bawdy, brutally funny and as sensitive as a lightning rod in a thunderstorm.
I am the co-founder of New Girl on the Block, a mentorship platform for millennial women who are dealing with major life and career transitions. In addition, my passion includes advocacy for anti-bullying and mental health in which I contribute my free time spreading awareness, providing expertise on media platforms and delivering keynote talks in schools nationwide. When I'm not working with young adults, I am growing my brand as a content strategist. I have successfully crafted a business in storytelling as a Journalist, Author and Ghostwriter.