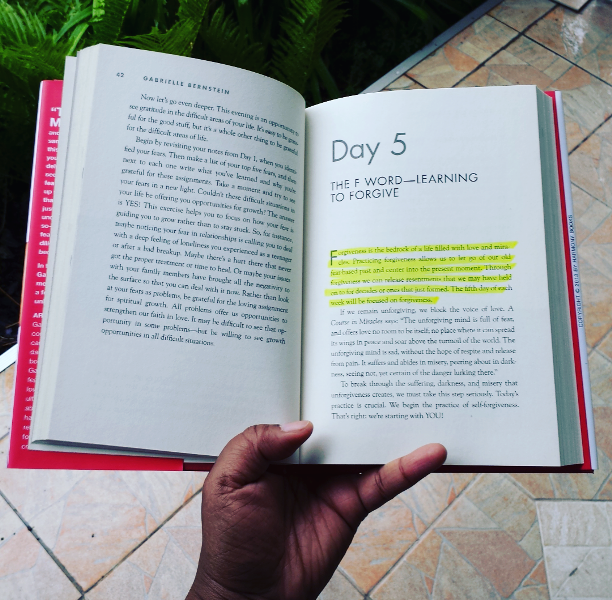 My thoughts: I really love Gabrielle Bernstein for so many reasons. Her energy makes me feel really calm and I often watch her videos to help shift my thinking when my mind goes all cray cray. May Cause Miracles is as amazing as it sounds. It will make any non-believer a believer and lead you to experiences that feel greater than life.
Favorite Quote:
"Forgiveness is the bedrock of a life filled with love and miracles. Practicing forgiveness allows us to let go of our old fear-based past and center into the present moment. Through forgiveness we can release resentments that we may have held on to for decades or ones that just formed…. If we remain unforgiving, we block the voice of love."
Favorite Video(s):
Synopsis via Amazon:
From the popular and exciting author of Spirit Junkie and Add More ~Ing to Your Life comes this practical and fun 40-day guidebook of subtle shifts for radical change and unlimited happiness.
Are you ready to work miracles? Gabrielle Bernstein believes that simple, consistent shifts in our thinking and actions can lead to the miraculous in all aspects of our daily lives, including our relationships, finances, bodies, and self-image. In this inspiring guide, Gabrielle offers an exciting plan for releasing fear and allowing gratitude, forgiveness, and love to flow through us without fail. All of which, ultimately, will lead to breathtaking lives of abundance, acceptance, appreciation, and happiness. With May Cause Miracles, readers can expect incredible transformation in 40 powerful days: simply by adding up subtle shifts to create miraculous change.
Pauleanna Reid is a multi-passionate entrepreneur on a mission to help young adults see beyond the limits of their circumstances and create a life they love. She is a Nationally Published Journalist, Motivational Speaker, Author of the novel Everything I Couldn't Tell My Mother and Founder of New Girl On The Block Consulting Inc.