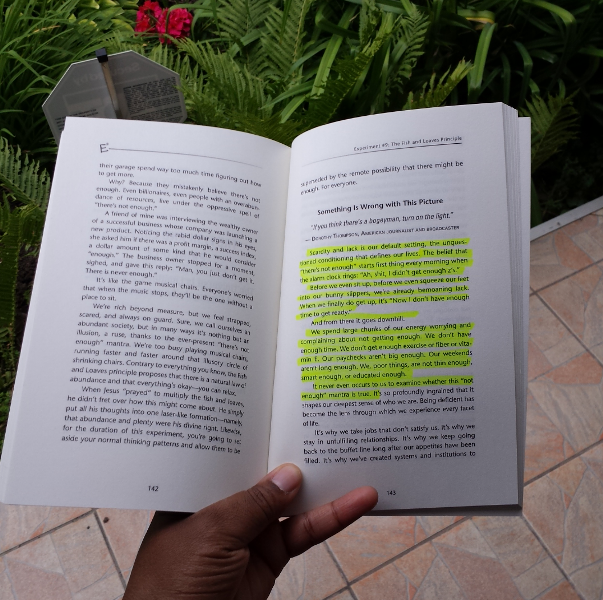 My thoughts: I am a total believer in the law of attraction. This book was an easy read and kept my interest through and through. Even if life is at its worse, your attitude matters. Don't ruin what may be in store for you. The law of attraction is very real.
Favourite Quote:
"Scarcity and lack is our default setting, the unquestioned condition that defines our lives. The belief that "there's not enought" starts first thing every morning when the alarm clock rings: "Ah, shit,  I didn't get through enough z's" Before we even sit up, before we even squeeze our feet into our bunny slippers, we're already  bemoaning lack. When we finally do get up, it's "Now I don't have enough time to get ready." And from there it goes downhill. We spend large chunks of our energy worrying and complaining about not getting enough. We don't have enough time. We don't get enough exercise or fiber or vitamin E. Our paychecks aren't big enough. Our weekends aren't long enough. It never even occurs to us to examine whether this "not enough" mantra is true."
Synopsis from Amazon
E-Squared could best be described as a lab manual with simple experiments that prove reality is malleable, consciousness trumps matter, and you shape your life with your mind. Yes, you read that right. It says prove.
The nine experiments, each of which can be conducted with absolutely no money and very little time expenditure, demonstrate that spiritual principles are as dependable as gravity, as consistent as Newton's laws of motion.
Rather than take it on faith, E-Squared invites you to prove the following principles:
There is an invisible energy force or field of infinite possibilities.
You impact the field and draw from it according to your beliefs and expectations.
Your connection to the field provides accurate and unlimited guidance.
The universe is limitless, abundant, and strangely accommodating
I am the co-founder of New Girl on the Block, a mentorship platform for millennial women who are dealing with major life and career transitions. In addition, my passion includes advocacy for anti-bullying and mental health in which I contribute my free time spreading awareness, providing expertise on media platforms and delivering keynote talks in schools nationwide. When I'm not working with young adults, I am growing my brand as a content strategist. I have successfully crafted a business in storytelling as a Journalist, Author and Ghostwriter.