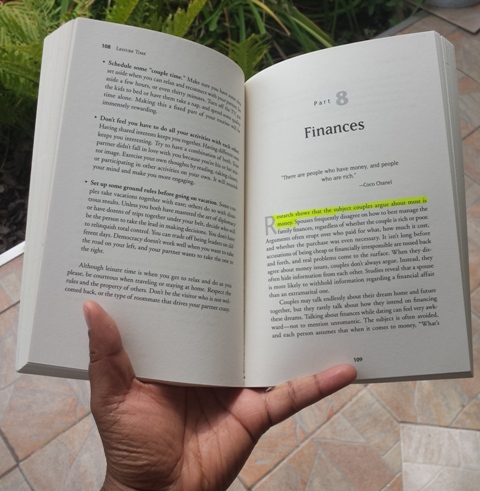 My thoughts: I have personal ties to this book because 3 years ago I was ring shopping with my ex boyfriend. Yes girl, now my ex. Most recently he invited me out to dinner to catch up and only minutes into the discussion, he dropped a bomb. I learned that my ex man was newly engaged to his new boyfriend. Yes, boyfriend and ever since then I've questioned and retraced my steps. Over a million times. This book is such a good read. Save yourself heartache and don't leave any stone unturned.
Favorite Quote:

"A recent poll discovered that the most common deception among married individuals involved money. Couples should always be open about money matters. Each person needs to be completely clear on what money is."
Synopsis via Amazon:
The relationship expert from the "Ladies' Home Journal," the "Wall Street Journal," and Lifetime Television shows how to prevent marriage problems before they start.
There's nothing wrong with starter jobs and starter homes, but starter marriages? Relationship expert Monica Mendez Leahy is on a mission to help readers make their marriage last. Her "1,001 Questions to Ask Before You Get Married" offers a reality check for couples on the marriage path, helping them realize how much they have yet to discover about their partner's nature, thought processes, lifestyle, and marital expectations.
Engaged couples learn to discuss issues deeper than "chicken or fish" and to broach subjects that are often ignored before the nuptials yet essential for the foundation of an intimate, long-lasting relationship. Posed in a variety of fun formats, including multiple choice, fill-in-the-blank, and hypotheticals, these questions include topics such as: "Does your partner feel that you're too attached to your parents?" "Is there such a thing as innocent flirting?" "Is it OK to cheat on your taxes?" And more