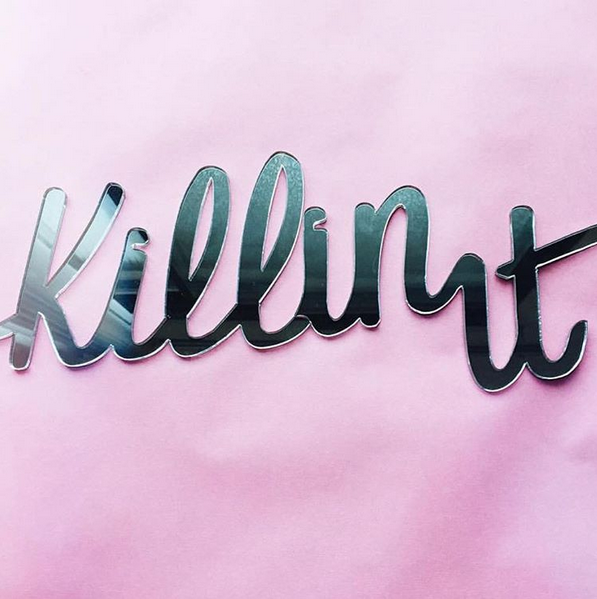 As you can imagine, I receive loads of emails on a daily basis. If it's not updates from my assistant, it's a to-do list from my publicist. If it's not a concern or homework submission from my mentees, it's a question from someone in my tribe.
Girlfriend. Loads.
I really do love hearing from my tribe. It's my favorite moment of the day when I receive questions from people who take interest in my work. I always try my best to give my undivided attention and get to know each one on a personal level. This week I received an interesting question that actually inspired this blog post.
Whenever I receive an inquiry for someone who'd like to pick my brain. I always ask, "Are you interested in becoming a client or do you have a quick question?" It helps me understand the intensity of the problem at hand.
A gentleman recently slid into my Facebook inbox and asked me how to create an effective mentorship program. I guess because he has been noticing how mine (newgirlontheblock.com) has been thriving in such a short amount of time. We've mentored and directly impacted over 80 women and girls in 5 countries.
Hastag. Blessed.
He said he had a quick question. Only "how to create an effective mentorship program" does not have a quick answer. Any question around branding usually doesn't. Don't get me wrong. I am always grateful that someone wants advice from me and I do my best to help. But I have to keep it all the way real. I like to help people who help themselves.
Let me give you a best practice that I use before I approach anyone: I always try to exhaust all options first.
I have 4 mentors who play a consistent role in my life. They are super successful and rich in experience, relationships, opportunities and… let's not even be coy here, money. In short – they are busy people. And even though I could call them any time or shoot a quick email, I always try to find a solution before I approach them.
Because:
a. With so many resources at hand – that are free btw – 9 times out of 10, the answer is available to me online if I really try to look. I like to say Youtube and Google are the best university.
b. I like a good challenge. I could ask my mentors to get an easy answer or I could tackle my challenge head on and give it a try.
Use this practice often. Especially at your job. Before you raise your hand, try to be resourceful. Try your best to find a solution on your own. Only when you have done that, should you approach someone with questions.
I tell my assistant and staff the same thing I am telling you. I am a last resort. I encourage everyone I know to face their challenges and try to conquer them. I am always here to help, but I will be more inspired to help if I see you trying you best. Then I know you're hungry. I know you really want it. What I don't respect is someone who looks for short cuts and wants the easy answers. Life just doesn't work out that way and you simply won't respect the journey if you take the easy road.
Struggle builds character. It helps you develop thick skin. So embrace those moments.
I also give this advice knowing full well that not only do I practice it daily, but I really love the treasure hunt to find my own answers because I have learned so much along the way. Girl, I kill YouTube all day. I listen to a sermon in the morning, I usually listen to Gary Vaynerchuck or Myleik Teele during the day, and or a series of Top 10 Rules before I good to bed.
Been doing this for years. I spend countless hours in study mode.
(Years?)
Yes, years. Because I am hungry and I really want to learn and grow. Not only does it add value to my life, but I then put myself in a position to win. Knowledge is power. So I created this post to share some insight on my fave speakers, educators, podcasts and cool resources for you to enjoy. Think of this as the 'short cut' you've always wanted.
You get a pass this one time.
Below are my all-time favorite clips and tips:
Dynamic Speakers
For introverts: Study Susan Cain
For aspiring speakers: Study this Tedx Talk by Nancy Duarte and Lisa Nichols, who has great tips about how to move an audience
For procrastinators: Study Tony Robbins, Eric Thomas, Les Brown, TD Jakes or Paula White
For prayer and reflection: Study Joyce Meyers and Joel Osteen
For career motivation: Watch Nas' documentary Illmatic. Watch the rise of Issa Rae. Also take in interviews with Jay-Z, Mindy Kaling and (my obsession) Steve Stoute 
Insightful Podcasts
Instagram Accounts that Inspire
Tim Timberlake
Dana Chanel
Jerry Flowers
Love Your Lines
Alex Elle
Rob Hill Sr
Trent Shelton
Prince Donnell
Gentlemen Hood
Just Mike
Fly Girls on Instagram You Should Know
Coco & Cowe
Tanesha Awasthi
Ashley Sirah Nicoleta Chea
Zuri Hall
Kahlana Barfield Brown
Victorious Logan
Christina Cheng
Women Who Are About Their Biz-naz
Rakia Reynolds, Founder of Skai Blue Media
Ayana Iman, Founder of #Authenticconvos
Nenne Akpan, Founder of The Luxepreneur
Marie Forleo, Founder of Marie Forleo TV & B-School
Danielle LaPorte, Founder of Danielle LaPorte.com
Courtney Saunders, Founder of Think and Grow Chick
Karen Civil, Founder of Live Civil
Shannon Boodram, Author & Sexologist
Shah, Co-Founder of Boss Mom Nation
Samantha Clarke, International Photographer
Interesting men on Instagram Who Lead Great Conversation

HeirSherrod
Chris Classic
Lenny Williams
Photo Will
Legends League
Rico Love
Obsessed with these Entrepreneurs – I study them very closely
Keep up with Pop Culture yo' – Cool Instagram Accounts
Nikki Oh
XoNecole
Theybfdaily
Love B. Scott
Entertaining/Motivating YouTube Channels
Jefferson Bethke
NardwuarServiette
Rachel Roy
Eric Thomas
Mimi G Style
Brendon Burchard
Pastor Carl Lentz
Superwoman Vlogs
Her Agenda
Steve Furtick
The Phat Startup
Inspired by Love
For books, apps and more resources check out my library at New Girl on the Block