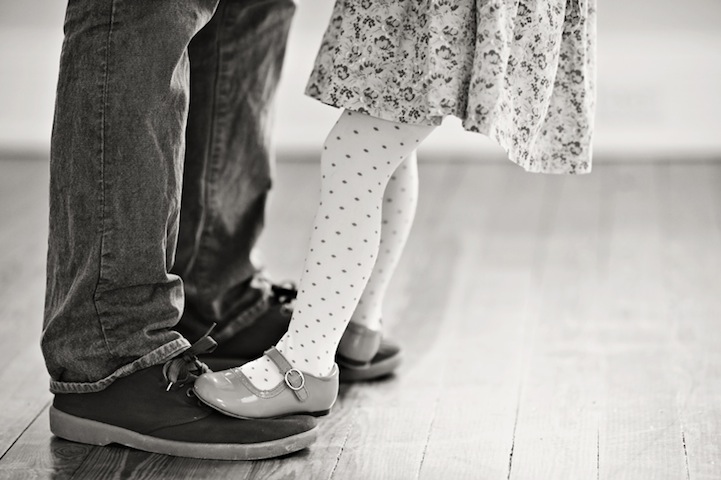 My dad holds a very special place in my heart. He pretty much taught me everything I know like how to ride a bike, drive, sing, swim and most importantly everything I need to know about men. Sadly, due to my rebellious actions throughout my tweens, teens and early twenties, I did not fully grasp the value of his core principles involving sex, love and relationships until recent years. If only I had paid more attention to the things he had to say, I could have avoided a path littered with poor choices. If you've read my new novel, Everything I Couldn't Tell My Mother, then you've been exposed to my past and all of the trauma I've experienced since I was 13. For a long time, I blamed myself. I felt ashamed, guilty and so embarrassed that I couldn't even stand looking at my reflection in the mirror. But daddy always saw the best in me during those times when I didn't see the best in myself. I may not have always been a good girl, but despite my past mistakes and decisions I've made, dad constantly reminds me that I still have it in me to become a great woman.
Here are 5 lessons my father has taught me about love & relationships:
1. YOUR SCARS ARE SYMBOLS OF YOUR STRENGTH
In full disclosure when I was 13 my virginity was taken from me. That particular experience was followed by a teen pregnancy at 17 which led to an abortion months later, the next year I entered a physically abusive relationship.  Take into account that I was also bullied in High School, I suffered from a mental illness for 6 years, I tried to commit suicide twice and I'm a college drop out. If you didn't know, well now you know I am definitely not perfect. I have gone through hell and back, but by the grace of God I have risen above it all. I am still standing. I am still strong.
My dad has taught me not to be ashamed of the person I am today and that I am still capable of being loved by God and the man who he has specifically designed just for me. It's easy for me to believe that no one will want me after what I've been through, but I remain optimistic because I trust God and his timing. My past circumstances have opened my eyes to know all the things I don't want in a partner and I can see clearer now, the fog is gone. God knows what man belongs in my life and when the time is right for love to flourish, I won't be confused, nor will I have to change who I am.
2. RESPECT YO'SELF BEFORE YOU WRECK YO'SELF
It is silly for me to think that a man will respect me more than I respect myself. I'm the one who sets the standard and in the past I haven't always placed this bar high enough. But after many late night talks with my father, he has opened my eyes to realize that my mind and body are sacred. I am in full control of the choices I make from the way I dress, the words I say and the things I do. It's all about how I carry myself and if at any time I am received the wrong attention then perhaps it is time to retrace my steps.
3. PRINCE CHARMING ISN'T COMING
When I was little, Cinderella was my favorite Disney movie. I loved the idea of the prince saving her from her misery. Unfortunately, we all know this is not true in real life. My dad does not hesitate to constantly remind me of this. What I've learned from him is not to depend on a man to save me from my problems. A man is not a financial plan, nor is he a toy to fill a void. It is my job to strive to become better at everything, for my own personal benefit. Dad encourages me not to focus on finding the right man, but to focus on becoming the right woman and to place my heart in the hands of God because when he blesses me with a man who truly deserves it, I need to be ready.
4. IT'S OKAY TO HAVE STANDARDS
When I was little my dad and I would have date nights often. I was allowed to pick the date, time and place and there was no limits or hesitation on his part. Some of the fondest memories include these 1-on-1 experiences with him. I later found out that his idea behind these father-daughter dates were simple; he wanted expose me to everything so that I wouldn't be easily impressed by just anything….if that makes any sense. In other words, he was setting the standard and showing me how I should be treated so that when the time came to start dating I would reflect back and take note on the things he had taught me. Believe it or not, his actions have stuck with me throughout the years. The qualities I look for in a man has changed significantly since my teens and so has my standards. As a 26-year-old woman, I've learned to accept that it's okay to raise the bar high and to set the tone right away when dating someone. If the guy isn't feelin' it, then he's probably the wrong guy for me. I'm okay with that.
5. WHAT YOU PUT UP WITH, YOU END UP WITH
One thing I love about my dad is his ability to keep it all-the-way real. He never hesitates to tell me when he thinks a guy I'm dating isn't right  for me. Of course, I can think for myself but it's always nice to get an opinion from someone you trust. There have been times when my dad would straight up say, "He just wants to have sex with you. Tell him to beat it." or "He's just not that into you, you need to beat it." or "Why on earth would you think that you deserve to be treated like this?" and I love him for it. He has provided me with clarity in times of frustration and has opened my eyes to see a situation for what it is, not what I hope it would be.
I know I am extremely lucky and I don't take it for granted. These 5 lessons are only a small part of a larger conversation, but when a guy like my dad is open and honest enough to help his baby girl navigate her love life, I can't help but respect him for it and share these words of wisdom with others who can also benefit.
Peace & Love,
PRxo