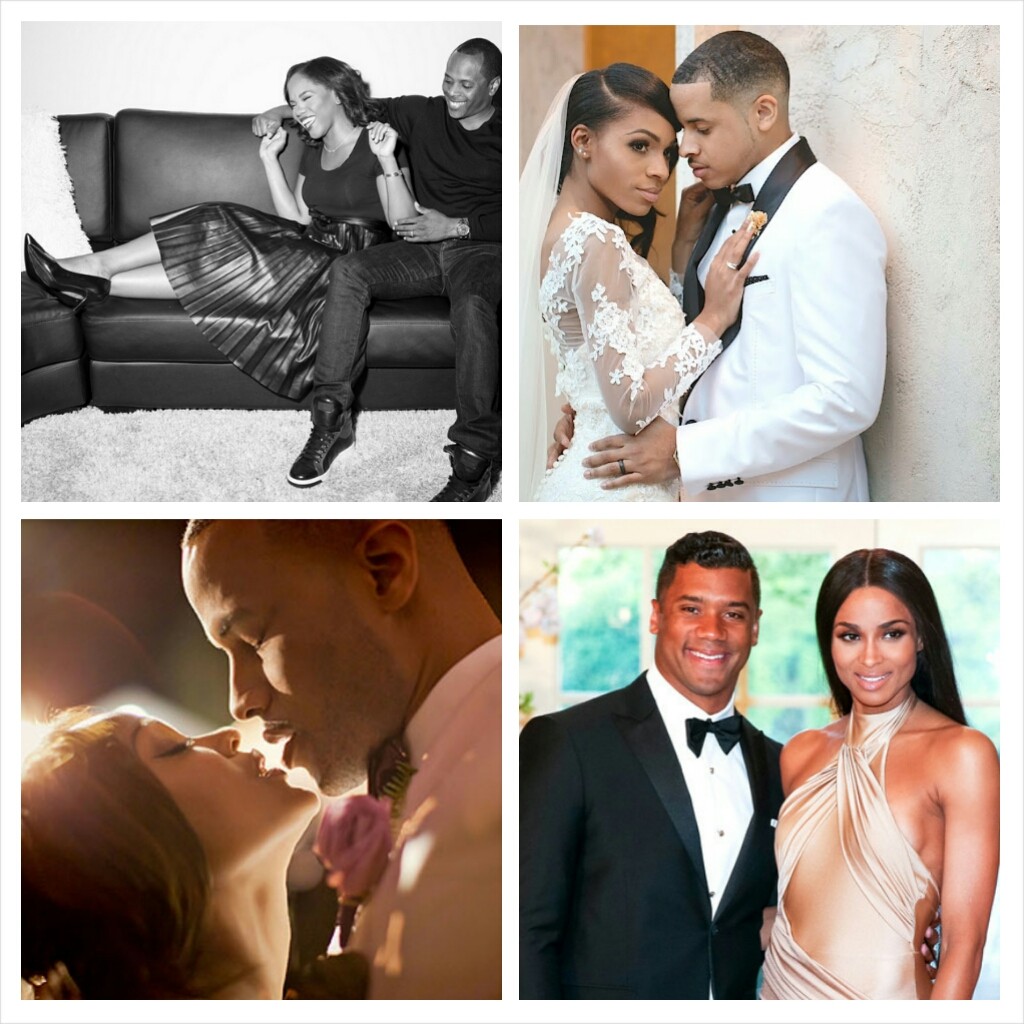 For some love may be just a word, but these 4 couples give it definition. Inspired by their commitment and influence, here are a few individuals who have restored my faith in marriage, balance and purpose.
Toure Roberts & Sarah Jakes Roberts on the first date connection
"On our very first date, I was here filming Dr. Phil. I didn't know how it was going to go. I didn't know if he was going to be wack [laughs]. And so I told myself at minimum we'll be able to recap the conference and then we can leave if there's no connection. I remember coming out of my hotel and he was just staring at me like I had wings only he could see. And so I remember feeling very vulnerable, shy and guarded. We went out to dinner and we're making small talk. Talking about previous relationships… some of the lessons, mistakes, decisions that led us to this point and really putting it out there. Then he looks at me and goes how can I serve you?"
Russell Wilson talks about how God led him to Ciara
"Ciara, she's a sweetheart. She's everything you could ever want…. I'll never forget she was on tour. I was looking at her in the mirror about 15 minutes before she went on stage and she was sitting there and God spoke to me and said I need you to lead her."

Devon Franklin & Meagan Good on practicing celibacy before marriage
"The desire for peace and harmony was also part of the motivator. The other piece was this. If for some reason my disobedience were to disqualify me for God's purpose on my life, would the activity that I was engaging in be worth it."

Cameron Logan & Vicky Logan on commitment
"I believe if you are dating someone, especially long distance, for too long you're wasting a lot of time. Let me tell you how my life worked out. So we were dating long distance and every other month or so I would go visit her and maybe twice a year she would come visit me. That's a lot of money coming out of my pocket. When you invest in something, you don't just put money into it and not expect anything in return. After spending thousands of dollars throughout the year visiting her. I had to get my own hotel, rent a car, pay for everything we did. I think it's stupid to date someone just to date. If marriage isn't the goal why even consider yourself boyfriend and girlfriend. "
Category: Arts, Beauty, Blog, Love and Relationships, Mentorship
I am the co-founder of New Girl on the Block, a mentorship platform for millennial women who are dealing with major life and career transitions. In addition, my passion includes advocacy for anti-bullying and mental health in which I contribute my free time spreading awareness, providing expertise on media platforms and delivering keynote talks in schools nationwide. When I'm not working with young adults, I am growing my brand as a content strategist. I have successfully crafted a business in storytelling as a Journalist, Author and Ghostwriter.