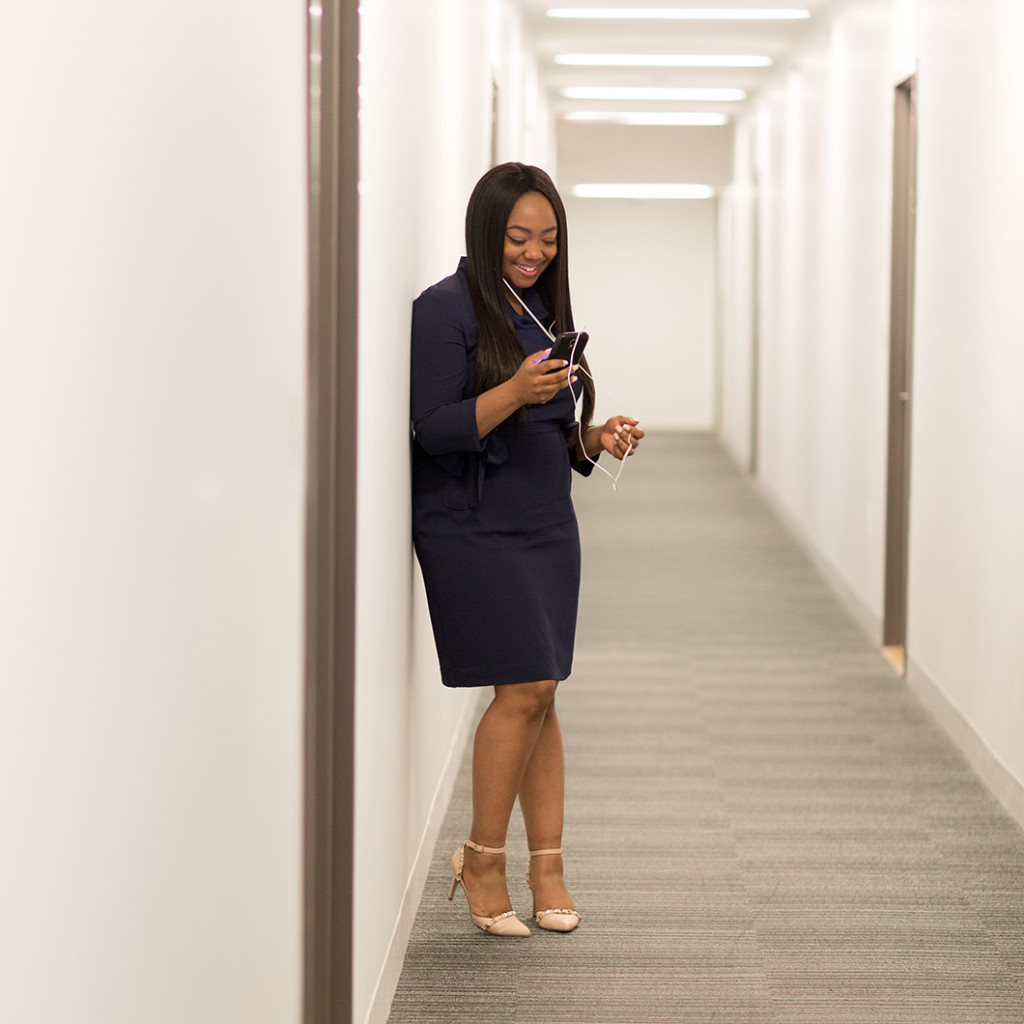 I've learned to make discomfort my new normal. It's been a gradual journey, but one I am happy I pursued because I've experienced immediate advantages in my career as a result. I used to live my life in fear. I would close my eyes at every turn, I screamed at every bump and tried my best to avoid any conflict, challenge or forward motion into the unknown. My world was much different before I learned to walk by faith. It felt confined. It was depressing and rarely did I experience any growth personally and professionally.
I've always been a big dreamer, but not always courageous enough to go after what I wanted. At least not until I hit my 20s. That's when things changed and adulting became real. That's when I realized that no one is going to achieve success on my behalf and if I didn't define it for myself and begin to work for it, I would never have it. I looked back on my adolescent years and didn't want to repeat history all over again.  My 20s have been a defining decade because I have been exposed to mentors and peer groups who introduced me to the idea that I could be anything and everything I wanted to be.
Girl, the power of someone investing in you can mentally and physically change the game.  
I recently read a quote that is so relevant to today's post. It said, "You don't get what you deserve, you get what you negotiate." When the words "get what you negotiate…" left my lips I immediately connected on multiple levels because my entire career is based on that same principle. It got me thinking about strong women I admire like Vashtie Kola, Karen Civil, Bea Arthur, Myleik Teele and countless others. I'm attracted to strong women who stand for something. They have a backbone. They use their voice. The biggest commonality, however, is that they are disruptors, innovators and risk-takers.
Here are 3 risks that I've taken in my 20s which have accelerated my career.   
1. Balancing a corporate job and my passion
My dad always says, "Baby, do what you have to do so you can do whatever the hell you want to do." He's right. While grinding away at jobs that I wasn't entirely thrilled about, I pushed through with my chin up and walked out at 5 pm knowing that I could work on my passions from 630 pm to midnight. Passion is what kept me going. Innovation is what kept my energy up. I knew a corporate job would give me the ability to fund my dream and grow my business. But it also meant I had to sacrifice sleep and time with family and friends which is a short-term risk worth taking for a long-term gain. I've worked with some not-so-nice bosses, in some crazy work environments but was able to touch the finish line because the thing that really made my heart happy was waiting for me at home. If you are not happy about your day job, follow your passion at night. Make the sacrifice. Nothing is forever. In your 20s, you likely have more flexibility than you will have in your 30s and 40s.
Example: While working as a receptionist 6 years ago I also balanced the beginning stages of my writing career. I had just launched my blog and also worked as a Freelance Journalist for a large publishing house. I'd work corporate during the day and go home to write at night. There were times when I even had to pull an all-nighter because I had a tight deadline due in the morning, but I didn't let it get in the way of my job. The struggle was real. But I was not going to lose my opportunity to write (and get paid doing it). That journalism role inspired me to write and publish my first book, and opened the floodgates to now work as a celebrity ghostwriter. That first step is always shaky, (annoying) but necessary.
2. Choosing a job based on culture rather than salary
I left my last corporate position because my mental health was far more important. There wasn't a single dollar more they could throw at me that would make me stay any longer. In my early 20s, money was the objective. I wanted a shiny salary and cared less about the team culture, environment, the management style of my direct reports and the mission of the company itself. My priorities were in the wrong place. Now that I'm on the cusp of 30, girlfriend, things are much different. I desire much more than a paycheck. My checklist is much more meaningful and I stay committed to it. Nothing beats finding my happiness and peace of mind.
Example: Years later, that same receptionist role I ended up quitting because the company "restructured" and as a result the morale was low. So I made a list of all the qualities I wanted in my new job; 5 things that mattered the most to me. I knew it wouldn't be easy but never imagined it would end up taking me 9 months to find a position that hit every mark. 9 lo-o-o-o-o-o-o-o-o-o-o-o-ng months. I cried, I went broke, I cried some more. I said no to every job offer that fell short because I was so determined. Eventually, I landed a dream job. I am no longer with that "perfect" job, but still hold incredibly meaningful and long-lasting relationships. My old boss is still one of my mentors. The risk was worth it.
3. Apply for jobs you are not qualified for 
Girl, when I was a teeny bopper and in my early 20s, I wasn't qualified for sheeeit. I didn't do well academically in HS and during college, I dropped out my second year, leaving me with a certificate. Not much you can do with that… so they say. If you know my story, then you know I have proved time and time again how faith can move mountains. With no formal education in writing, speaking, or counseling I have built an entire business from working hard, studying successful people, surrounding myself with amazing mentors/sponsors and practicing my craft daily. Not just some days, EVERY-DAY. Listen to me, you can't expect to be great if you only grind sometimes.  I had to work 10x no… 100000000x harder than everyone else because I had more to prove. In my early 20s I started my career with no experience, but today honey, Google me. I got 10 pages full. Don't be afraid to try. Don't be afraid to raise your hand. If you are willing to put everything into it, someone out there is willing to take a chance on you.
Example: Where do I begin, I have so many. I'll take it back to journalism. I launched my blog in 2009 with little experience in writing. The most I had ever done is journal. When I connected with my bomb mentor Shannae Ingleton she literally put her name on the line to help me apply for a Freelance position at a publishing house in Toronto. One day she called me and asked me if I would be open to pursuing a career in journalism. Girl. I was like um, no (in my mind). I was so caught off guard, I was so scared, I didn't even know what a journalist really did. However, if my mentor believed in me then I knew it was at least worth a try. She made the intro, I had the interview and they hired me based off my blog and her word. Straight up. No resume. No experience. Just insane work ethic and heart. Hashtag. Blessed.  At 22, I became the youngest writer in the company and a nationally published journalist for the next 4 years. Don't ever tap yourself out of the game.
I hope you take your next career jump with confidence. I believe in you.
Peace & Love, 
PRxo